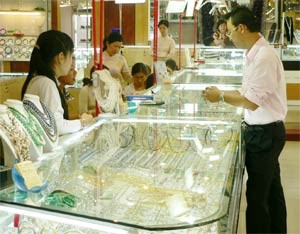 Signs of speculation exist when Vietnamese consumers decide to purchase more gold these days. (Photo:TK)
It seems that Vietnamese consumers are likely to purchase more gold when it appears that its price will continue to rise indefinitely.
As of yesterday, the domestic gold price had yet to stop its dramatic rise with gold at the HCMC based Sai Gon Jewelry Company (SJC) trading at VND13.36 million per tael, representing an increase of VND70,000 over Monday's price.
Despite the escalating gold prices of late though, Vietnamese gold traders have reported a remarkable rise in gold sales. According to many gold and gold commodity dealers, trade volumes for gold jewelry and bullion also increased as the gold price started to rise early yesterday. In particular, sales at the SJC rose sharply to 6,000 taels as of 5 PM yesterday. A representative of the company's sales department said the domestic gold market is starting to show signs of speculation.
In the global market, gold prices fluctuated strongly yesterday, closing at US$686 an ounce after having surpassed the US$690 level earlier the same day. The domestic gold price was VND120,000 per tael lower than the world price.
According to Mr. Le Xuan Dong, from the Bao Tin Minh Chau Jewelry Corporation, increasing global gold prices were a key factor in the rise of gold prices on the domestic market.

He also said the recent dip in the securities market was also an important factor since many clients used money gained from the securities market to buy gold until the securities market calmed down.

Experts said the recent growth is also a product of dollar depreciation as many investors have turned to channeling capital into gold investment. Mr. Dong said the climb in local gold prices will likely continue over the next couple of months, adding that domestic gold prices will probably peak at a little over VND14 million per tael.
Related link: