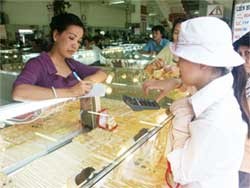 Few Vietnamese consumers purchase gold products after signs of gold price's rally growth.(Photo:T.K)
The global gold price continued to rocket early July 12, reaching US$646.6 an ounce late the day, an increase of over US$20 over Tuesday.
Also, gold price in the domestic market restarted its rally growth after two successive days of reduction.
On the same day, Ho Chi Minh City-based gold enterprise Sai Gon Jewelry Company (SJC) priced gold at VND12.63 a tael, increasing VND160,000 over Tuesday.
Accordingly, the domestic gold price was only VND60,000 a tael, lower than the global one.
Recent strong fluctuations of gold prices caused a decline in the purchasing power for the precious metal, resulting in a slum of gold sales in the domestic market.
Both SJC and another local gold trader Kim Hoan Viet Company reported a decrease of over 50% in their sale volumes.
Many experts believed that the sky-rocketing of the global gold price was one of the side-effects of the political uncertainties in India.
Besides, the Export-Import Commercial Bank (Eximbank) speculated previously that international investors were selling gold out at signs of concessions in the Korean Peninsula after North Korea's brazen missile test last week.