Yesterday, Saigon Jewelry Company's (SJC) gold set a new record with the price of VND17.7 million (US$1,100) per ounce; up VND380,000 (US$23) from the previous day.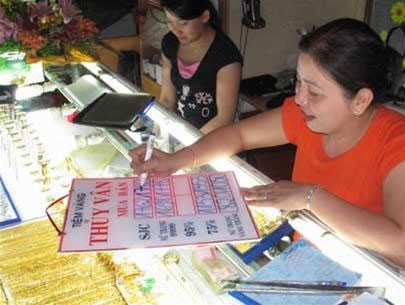 A gold seller notes down the price of Saigon Jewelry Company's gold, which soars to a record VND17.7 million on Jan 25
In addition, the total trading volume at the Saigon Gold Trading Floor reached an all-time record with 170,850 ounces of gold worth around US$188 million.
The gold market had a hectic day; investors bought and sold early in the day and by the end, many had made impressive profits.
On an international scale, the gold price surged to a new record high as South African miners halted operations due to severe power shortages in the country, this fuelled a further increase in precious metal prices.
The gold price hit $923.60 per ounce for the first time yesterday and traders began discussing the prospect of the predicted US$1,000 level being reached in the coming weeks.