Gold prices dropped VND 110,000 (US$ 4.9 ) from the beginning of this week in the local market, while the global gold prices fell to their lowest level since 2010 on November 13.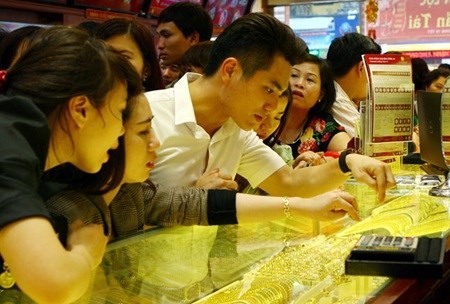 People buy gold at a Bao Tin Minh Chau shop in Hanoi (Photo: VNA)
The Sai Gon Jewellery Company sold one tael, or 1.205 ounces, of the state-owned SJC gold for VND 33.37 million (US$ 1,489.7 ), a drop of VND 50,000  (US$ 2.2) from the previous day's price.
The gold trading points of Sacombank, VietinBank and TPBank sold one tael of gold for VND 33.38 million (US$ 1,490 ).
Local gold and jewellery companies of Bao Tin Minh Chau, Doji and Phu Nhuan sold their gold at VND 33.29 million (US$ 1,486 ) to VND 33.35 million (US$ 1,488.8 ) on the same day
On the global gold trading website Kitco.com, the price of gold slipped another US$ 1.8  per ounce to end at US$ 1,083.2  per ounce or US$ 1,305.2  per tael.
Reuters.com reported that gold fell for 12 sessions out of 13 on November 13, trading close to a near-six-year low on rising bets that the Federal Reserve would hike American rates next month and as investors pull out of bullion-backed funds.
Spot gold fell 0.2 percent to touch US$ 1,082.65 an ounce by 3.52am GMT, and was on track to post a fourth straight weekly dip. The metal tumbled to US$ 1,074.26 in the previous session, the lowest since February 2010.
As the price of gold fell, Bao Tin Minh Chau Company in Hanoi recorded a greater number of gold buyers than gold sellers. The ratio of buying/selling of gold was 65 to 35. The company encouraged buyers to purchase gold now for the best savings.
Thus, on November 13, the price of one tael of gold in Vietnam was US$ 184  higher than that on the world market.
In the forex market, the dollar rate rose by 10 to 20 dong in commercial banks. The highest rate for one American dollar was VND 22,450 on November 13.