Both the domestic and global gold prices continued to rise remarkably on Thursday, which was in line with predictions made by many market analysts earlier.
Gold traded at the Ho Chi Minh City-based gold enterprise Sai Gon Jewelry Company (SJC) was priced at VND12.19 million a tael late Thusrday, up VND260,000 over Wednesday.
Meanwhile, the prices of Phu Nhuan Jewelry Company (PNJ) gold and AAA gold manufactured by the Vietnam Bank for Agriculture and Rural Development were at VND12.02 million a tael, increasing by VND140,000 over Tuesday.
As predicted, the gold price in the international market for the first time in the past two weeks has exceeded the US$600 an ounce level. On September 28, gold was traded at US$604 an ounce in New York market, up US$16 over the previous days.
Despite the fact that the domestic gold price was over VND400,000 a tael higher than the global one, local gold traders reported an increase of over 30% in their sale volumes. In particular, the Saigon Jewellery Company (SJC) Hanoi branch said its sales tripled this week.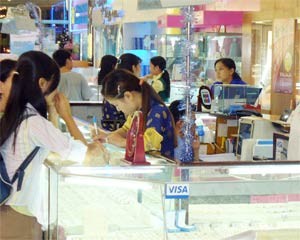 Many gold traders believes that the high demand of jewellery this wedding season has contributed to the increase in sal volumes. (Photo:TK)
Many Vietnamese private gold traders believed that the high demand of jewellery this wedding season has contributed to the increase.
Gold price increases are always triggered by oil price hikes. In fact, the global oil prices have grown rally, reaching US$62 a barrel, much higher than the previous level of US$59 a barrel.
Analysts said that the demand for gold is increasing in the world's markets, especially in Russia, China and India. Particularly, India is increasing its gold imports by 10% to 720 tons this year to meet the country's rising demand.
In addition, some international banks and investment funds predicted that gold prices in the global market would continue to rise through 2006 and further into 2007, estimating that gold will end up averaging around US$633 an ounce for 2006 and US$753 for 2007.