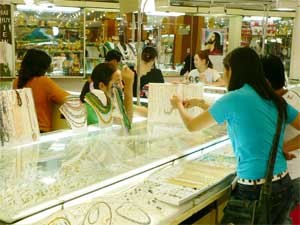 Local consumers are now more interested in gold speculation when the price shows signs of fluctuation. (Photo:TK)
The Asia Commercial Bank (ACB) will open a gold trading floor at the end of May, the first of its kind in Viet Nam.
From May 25, investors will have another investment channel, the Saigon Gold Trading Floor (SGTF), besides the stock market. The trading floor, according to a representative of the ACB, aims to create a playing field for investors who want to profit from gold price fluctuations and will be a place where all transactions can take place in a transparent and safe way.
Investors can make daily transactions at the trading floor, define the selling and purchasing prices and make good decisions in their business. They can even make deals worth more than the capital they have because they can borrow money from the floor's members.
Floor members will include banks and gold trading companies. Investors open accounts at member companies and place orders through them. Computer software will automatically match the appropriate orders. The floor will announce references price to investors, considering the opening and closing prices.
The only commodity to be traded on the floor will be SJC (VND/tael), and the minimum trading volume will be 10 taels/order with a transaction fee of VND2,000/tael.
Investors pay a security deposit of up to 10% of their total trading value and ask the ACB for a loan of the remainder. The security deposit will be kept unchanged by the ACB's announcement to investors for additional deposit. If the investors fail to pay the additional deposit within 15 days from the announcement date, ACB will cut down their loan debt in order to balance the deposit rate.
In related news, gold prices have been decreasing. The Ho Chi Minh City-based gold trader Saigon Jewelry Company priced its gold at VND12.96 million per tael early this week, down by VND100,000 per tael over last week. In the domestic market, gold's purchasing power has increased gradually by 20-30%. Analysts said that the price would keep decreasing for some more days following the decreases in the world's market.