Viet Nam and the US have reached an agreement in the final bilateral negotiation on WTO accession. However, it is not an easy game, as Deputy Minister of Industry Bui Xuan Khu has warned.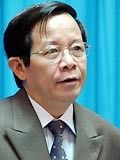 Deputy Minister of Industry Bui Xuan Khu

* Reporter: Mr. Deputy Minister, during the talks with the US, a matter of controversy is the government's Decision 55 on investment assistance to accelerate the textile and garment industry of Viet Nam. What is it all about?

* Mr. Bui Xuan Khu: The decision was made because the government wishes to boost investment and industrialize textile and garment industry, thus to create more jobs. Actually, with this decision, only some projects are supported, because of the prolonged preparation process of enterprises due to difficulties and procedures caused by the lack of professional project workers.

However, it can be seen that the investment process of textile and garment is inconsistent; many projects did not work at full capacity. Up to now, home-made fabric output serving the demand of export is still low, except for knitwear.

When we join the World Trade Organization, the government's subsidies will be abolished, but it does not mean that the acceleration program will be done away too. The enterprises themselves should mobilize capital by means of market economy institutions such as equitization, stock market, etc. to further develop.

* When Viet Nam enters WTO, the textile and garment industry will be deeply affected. What could you say about the trend?

* It is surely a "golden chance" to develop textile and garment industry, because there will be no quotas. Thus, foreign investors will further invest in textile and garment of Viet Nam; enterprises of the third country will place orders. So the quantity of export products will increase, which will actuate local enterprises to expand investment.

We think that with this trend, export turnover into the US market may double in a short time. However, some predictions show that there have been no breakthroughs in export of textile and garment products to the US market. It is learned from the EU market that when there are no quotas, export turnover decreases due to limited competitiveness. The same thing might happen in the US case.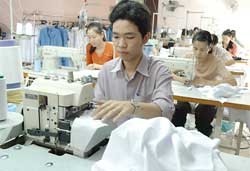 Export turnover of Vietnamese textile and garment products may double in a short time after Viet Nam enters WTO
* The acceleration program has not helped boost the textile and garment enterprises' strength in the integration process. So how to compete with products from other countries?

* We think that global economic integration will offer more business opportunities, but products from other countries will flood into Viet Nam because we have to open market too. So enterprises have to adapt themselves.

Actually, in recent years, local enterprises have prepared for the integration process, such as AFTA (ASEAN Free Trade Area) with a program on reducing duties of thousands of imported goods into Viet Nam, APEC (Asia-Pacific Economic Co-operation) and upcoming WTO membership. When we join WTO, we will have more chances to improve our preparations, so it is quite optimistic.

From dumping suits, especially the imposition of duties on catfish export companies to the US, or the suspected trade fraud of Buu Huy, Deputy Director of An Giang Afiex Company, who has been taken into custody in Belgium, it can be seen that Vietnamese companies are still unfamiliar with integration process. Some companies did not take part in law suits, leading to a doubled taxation; some knew how to co-operate, so duties were lower. Dumping suits or some other technical barriers will occur frequently, so local enterprises should find measures to cope with them, with the assistance of legal consultants.

* Thank you.