Petrol prices have been increased twice, totaling VND3,150 a liter in May, which has affected transport fees not other commodities' prices.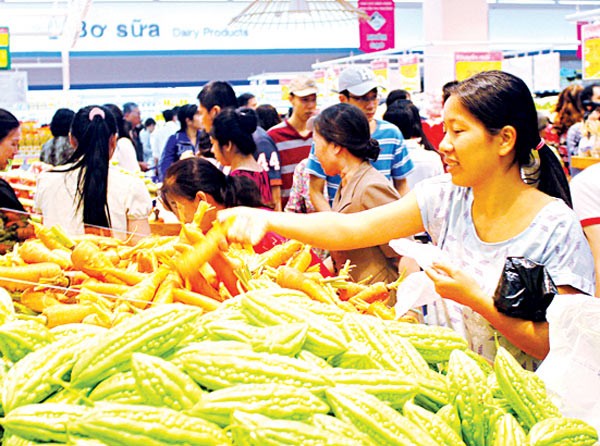 Consumers choose vegetables at a supermarket in HCMC (Photo: SGGP)
Businesses said that weak purchasing power have made them keep the prices stable in order not to affect their goods' competitiveness.
According to latest statistics announced by Ho Chi Minh City Statistics Office on May 21, the Consumer Price Index (CPI) in May went up 0.3 percent over the previous month, making it the third month in a row with the index increase after five consecutive months of reduction.
Only four out of 11 groups of commodities used for the index calculation saw the index up. Traffic group took the lead with 1.05 percent, followed by garments, headwear and footwear with 0.1 percent.
Cultural and tourist service group surged 0.07 percent and household appliances soared 0.02 percent. CPI of the rest seven groups were unchanged or down over April.
The transport group's CPI increase is attributed to petrol price which was lifted VND1,950 a liter on May 5 and VND1,200 on May 20 by the Ministry of Finance and the Ministry of Industry and Trade.
Supermarkets have affirmed that the prices of necessary commodities are steady. There are no suppliers asking them to make any change. Many supermarkets have not only stabilized the prices but also launched promotional programs to stimulate consumption demand because the purchasing power is still weak now.
Unchanged retailed prices are also recorded at markets such as Nguyen Dinh Chieu, Van Thanh, Ba Chieu and Tan Son Nhat.
Some vegetable traders at Van Thanh Market said they had not paid attention to petrol price for a long time because it had been changed continuously in short terms.  Following the petrol price increase to set goods prices might affect sales.
Director of a company specializing in fresh and processed meat said that petrol price accounted for only 2 percent of their products' price. Therefore the company doest not pay much heed to it. The most important thing for them is to ensure material source for production, especially amid weak purchasing power as present.
Deputy Director of Huong Mi Handbags Company Tran Ba Dung said that petrol price hike would push up transport fees. However, businesses should not base on this factor to adjust the prices if they want to maintain their products' competitiveness.
The economy is still facing with many difficulties, firms should build long-term production plans to stabilize the prices, he added.