The Government estimates a 6.7 percent growth rate for this year, with agriculture, industry and construction, and services sectors growing by 3.6 percent, 7.5 percent and 7.3 percent respectively.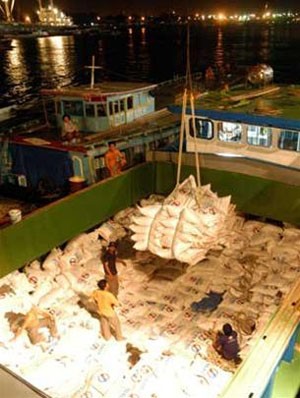 Dong Thap rice is loaded to export at Sai Gon port. (Photo:Tuoitre newspaper)
The export turnover for the year would be US $64 billion, with the trade deficit at US $19 billion, about 29.7 percent the total export turnover.
The increase in consumer price index (CPI) for the year is expected to be 22 percent.
These figures are contained in the resolution (25/2008/NQ-CP) signed by Prime Minister Nguyen Tan Dung on November 5, following the monthly session of the government held in October.
The financial crisis and the decline of the global economy will negatively impact the growth and macroeconomic stability of Vietnam in the last months of 2008 and in 2009.
The fall in prices of main export goods like petroleum and agricultural products will cause difficulties for production and the state budget, and the decrease in purchasing power of some commodities in the world market will also be disadvantageous to export and investment. This will also slow down growth in the tourism industry.
Hence the government agrees that the economic growth rate in 2009 will be about 6.5%.
The government will not only focus on restraining inflation and preventing economic decline, it will also manage prices through market mechanisms especially of coal and electricity, in 2009, the resolution says.
Besides, the government will ask the National Assembly to assign it the task of organizing and directing implementation of the law on enterprise income tax in 2009.
Depending on specific conditions, enterprises will be given more time to pay their taxes and some, especially in rural areas and in the small and medium scale sector, will be given tax exemptions.
The government has also agreed to defer application of the new minimum wages proposal that it submitted to the National Assembly.