The Government reviewed socioeconomic growth in January and implementation of measures to combat recession at a regular monthly cabinet meeting that opened on February 3.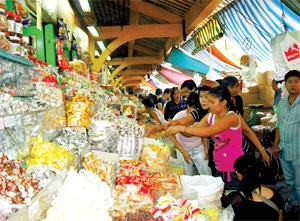 Shopping for Tet 2009 at Binh Tay market in Ho Chi Minh City's District 6 (Photo: SGGP)
Ministers agreed at the meeting chaired by Prime Minister Nguyen Tan Dung that economic growth had fallen short of the target due to the global crisis.
Exports amounted to US$3.8 billion, a 18.6 percent fall from December and 24.2 percent down year on year.
The Government's measures to stimulate demand and curb recession have been carried out, the meeting heard.
The Government will closely monitor and instruct implementation to ensure best results, it also heard.
The meeting also discussed Tet celebrations, praising local and central authorities for financially and morally helping poor and rural residents to enjoy Tet.
The Government had given VND2.5 trillion (US$147 million) to 2.4 million poor families with 10 million members to celebrate Tet.
The cabinet acknowledged that the number of road accidents was surprisingly lower this year and there was an adequate supply of goods at stable prices, with local products accounting for a large proportion.
The two-day meeting is set to discuss foreign investment, food security, and equitization of State-owned enterprises among other things.