The Government has appraised the economic situation and decided to set a growth target of 6.5 percent for next year, Minister of Planning and Investment Vo Hong Phuc said on the sidelines of a National Assembly meeting yesterday.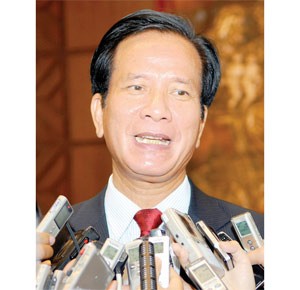 Minister of Planning and Investment Vo Hong Phuc
The Government had considered three options for Gross Domestic Product (GDP) growth, with 7 percent and 7.5 percent being the other two.
But it settled on 6.5 percent after realizing that the global economy is seriously worsening.
 
Mr. Phuc said the external situation would adversely affect Vietnam, especially its exports and foreign investment.
The Government would now place the new target before the NA for approval, he said.
Inflation is no longer a priority since it has been controlled, he said, explaining that while the Government would continue to keep an eye on prices, preventing a slide into recession is the more important task now.
Reviewing the economy's performance this year, he predicted GDP growth to top 6.7 percent against a target of 6.5-7 percent.
Inflation has been successfully curbed, with the consumer price index falling by 0.19 percent in October, he said.
But the Government does not think the economy faces deflation, he said.
The consumer price index fell only in October, mainly due to a drop in the prices of foods, vehicles, and construction materials, he said, pointing out that the prices of other commodities increased lightly.