The Vietnamese government has required ministries and localities to take measures to prevent goods speculations and price hikes amid increasing prices of some essential items such as cement, construction steel and fertilizers.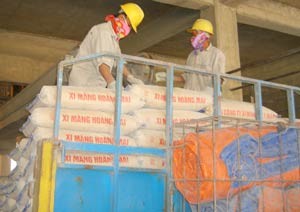 Cement has recently caused a fever in southern Viet Nam
The government has asked the Ministry of Construction to ensure sufficient supplies of cement by accelerating the construction of new cement plants.
The Ministry of Transport was requited to arrange enough means of transport to carry cement and clinker from the north to the south, where cement is in shortage.
Municipal and provincial administrations should direct relevant agencies to intensify inspection of goods prices, especially those of the three items, and strictly deal with goods speculators.
Relevant agencies should closely monitor price hikes and market changes to propose suitable solutions to the government.