Deputy Prime Minister Nguyen Sinh Hung has instructed the Ministry of Agriculture and Rural Development and Ministry of Industry and Trade to monitor the fertilizer market and ensure sufficient supply next year.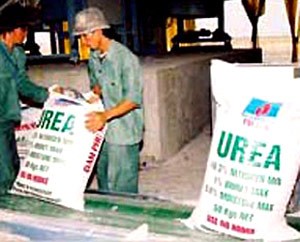 The Government instructs relevant ministries and agencies to ensure sufficient supply of fertilizers next year
He also told fertilizer producers to work at full capacity, calling on PetroVietnam and the Vietnam National Chemical Corporation to ensure their subsidiaries boost urea production.
 
Mr. Hung said local authorities have to guide farmers in the proper use of fertilizers and use of more general fertilizers, NPK fertilizers, and organic fertilizers rather than DAP and urea to maximize yields.
 
He pledged the Government would assist fertilizer importers in getting foreign currency loans so that they can import sufficiently and on time.
 
He called on PetroVietnam's Phu My Fertilizer Plant to draw up a price list for nitrogenous fertilizers that is beneficial to both companies and farmers, and to always maintain a minimum fertilizer stock to ensure market stability.
 
Mr. Hung asked provincial and city people's committees to monitor fertilizer quality to prevent violations, speculation, and production of substandard fertilizers.
 
Producers and distributors should keep a close eye on the market to prevent unreasonable price hikes when demand increases, he added.