The Ministry of Finance has proposed to the National Assembly waiving nearly VND9 trillion (US$409 million) of fines on enterprises for late tax payments, while also suggesting cuts on several types of tax.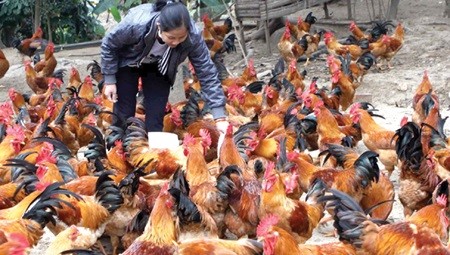 A farmer feeds her chicken flock in Na Loi hamlet, Thanh Minh Commune, Dien Bien City. Families in rural and remote areas who have to pay VND50,000 (US$2.2) and below for non-agriculture land tax are to be exempted from the tax, proposed the Ministry of Finance. (Photo: VNA/VNS)
The proposals will be discussed at the next session of the NA this October.
If an enterprise's products or services are bought by the State budget and payment has not been received, resulting in the enterprise filing their taxes late, it is eligible for the tax fines waiver.
Enterprises whose partners are bankrupt or have unilaterally terminated contracts, resulting lateness in filing taxes, are also eligible for the waiver.
Pham Dinh Thi, head of the Ministry of Finance's tax policy department, said the number of bankrupted enterprises and struggling businesses was increasing. Because of this, they are late in paying taxes, and in many cases, the fines for late payment are larger than the tax itself.
If this problem isn't addressed, the administrative cost for managing these fines will be a burden to the tax agency, he said.
The ministry also proposed eliminating fines for enterprises or individuals which have gone bankrupt or been dissolved and the tax payer can't be found.
Unsuitable taxes
In the proposal, the finance ministry also suggested eliminating unsuitable taxes and fees, where the cost for tax collection is much higher than the tax itself.
Thi from the tax policy department cited taxes on non-agriculture land in rural and remote areas. He said the tax on these areas was quite low, while the money spent on printing tax forms, bills and hiring staff was much higher.
"Tax collection in these areas is not effective," Thi said.
Statistics from the ministry showed that there are 16 million families nationwide who have to pay non-agriculture land tax. Of these, the number of families who have to pay VND 50,000 (US$2.2) and below is 12 million. The tax collection from these 12 million families is only 14.5 per cent of the total tax collection for non—agriculture land.
Dang Thi Binh An, Chairwoman of C&A tax consultancy company, suggested that families in rural and remote areas who have to pay VND 50,000 and below for non-agriculture land tax should be exempt from the tax.
The elimination of tax in these areas will obviously reduce the State budget, however, this can be compensated by the reduction in the cost of tax collection, Thi added.
Vu Quoc Tuan, former member of the Prime Minister's consultant group, said the waiver of tax fines and elimination of fees was aimed at boosting Vietnamese businesses' competitiveness.
"Taxes and fees need to be balanced," he said.