Stepping up exports, reducing excess imports over exports and restraining price increases were the key issues discussed at the Government's regular meeting last month, Nguyen Xuan Phuc, Deputy Chairman of the Government Office told correspondents yesterday.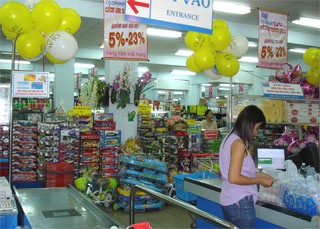 The Government will implement new measures to monitor the market and prices of commodities closely (Photo: H.Yen)
He said that according to the Planning and Investment Ministry's report, the country's imports exceeded exports in the first half of the year by US$4.8 billion, equal to 21.3 percent of the total of export turnover, a much bigger increase compared to the same period last year.
 
In June alone, the value of excess imports over exports was equal to US$1 billion, the highest difference to date.
 
In order to reduce the excess of imports over exports during the second half of the year, the Ministry has introduced measures to boost exports.
Such measures include continuing to set up a legal system appropriate to the country's regional and international economic integration, encouraging exports by offering exporters full support in line with regulations of the World Trade Organization.
 
In addition, exports of commodities like furniture, electronic products, footwear, sea products and rubber that are in a strong position on the market will be speeded up whilst imports will be more tightly controlled.
 
Mr. Phuc said that the Government is going to implement new measures to monitor the market and prices of commodities closely, especially commodities used in production and daily life, to ensure a lower price increase rate than the economic growth rate.
 
Ministries of Finance and Trade, and the State Bank of Viet Nam will keep a close watch on the price movement on international and domestic markets.
They will forecast and analyze changes in supply and demand of goods and services in order to stabilize the market promptly.
 
The Trade Ministry will oversee petroleum prices, which are fixed by enterprises, to prevent a coalition among enterprises in price exclusivity and petrol speculation.
 
In addition, the Ministry will take strong measures to fight against commercial and tax fraud, and inflict tight controls on the spending of the State budget.