The Government has promised every effort to prevent an economic decline and ensure social welfare in 2009.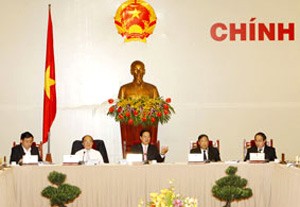 Prime Minister Nguyen Tan Dung (C) chairs the Government's regular meeting of December
Head of the Government Office Nguyen Xuan Phuc, briefing the media about a regular Government monthly meeting presided over by Prime Minister Nguyen Tan Dung December 24 to review this year's economic performance and make plans for the next, said GDP growth would be maintained at 6.5 percent.
 
Though the country faced many difficulties this year, its economy has performed well in many areas, including achieving a fairly high growth rate and stability, curbing inflation, and ensuring social welfare, he said.
 
But there are also weaknesses, he added, including delayed economic forecasting and sluggish implementation of policies, cumbersome procedures, and poor coordination between ministries.
 
At the briefing, Minister of Planning and Investment Vo Hong Phuc said the economic growth and inflation rates for this year are 6.23 percent and 19.9 percent.
 
Though the growth rate was below the target of 7 percent set by the National Assembly, "6.23 is an impressive figure" in the regional context at this time of recession, he added.
 
2009 tasks
 
In 2009 the Government would focus on preventing an economic slowdown, maintaining 6.5 percent growth, and ensuring social welfare, he said.
 
High on the meeting's agenda was mobilizing capital in 2009. The gross capital formation, or the total money invested in the economy, is expected to be VND300 trillion (US$17 billion). Around half of this will be spent on development, representing an increase of 50 percent over 2008.
 
Small and medium-sized enterprises, particularly labor-intensive ones, and investment in rural infrastructure will be priorities for a stimulus package the Government has planned.
 
Mr. Dung said the estimated US$6-billion stimulus package would be spent on supporting households and 96 percent of SMEs by providing them loans worth VND400 trillion at low interest rates.
 
The Government will spend more than VND3 trillion to help the country's 61 poorest districts implement social welfare polices.
 
Mr. Phuc said to stimulate production his ministry would reduce income tax by 30 percent for SMEs and garment, seafood, electronic component, and footwear firms, and temporarily refund value-added tax paid by exporters.
 
Also at the briefing, finance minister Vu Van Ninh said his ministry would take measures to boost production, investment, and exports of major products.