The cabinet has agreed to use a US$1 billion economic stimulus package to assist small and medium-sized enterprises (SMEs) for the next 12 months, to help them to complete their projects in 2009.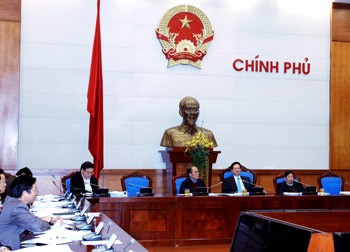 At the conference
This decision was made during a conference on Jan. 15 which examined a range of other issues, including assistance to allow poor households to welcome Tet (Lunar New Year festival), the use of resources for development investment, a mechanism of guarantees for SMEs, and the deferment, reduction and exemption of tax payments.
The cabinet members agreed to use the package to cover 4 percent of the interest rates on SMEs' bank loans to give a boost to their production levels and safeguard employment.
However, importers of non-essential goods and real estate and securities businesses are not covered by the package.
The cabinet showed a high degree of unanimity regarding the Finance Ministry's suggestion to provide Tet payments to more than 3.8 million poverty-stricken families nationwide, with most of the funding coming from the State's coffers.
They also agreed to provide credit guarantees for businesses with capital of VND20 billion or less and who employ a maximum of 500 workers, and to establish a VND200 billion guarantee fund in the near future.
Regarding tax issues, they agreed that it is necessary to allow tax payment deferments, reductions and exemptions for businesses in order to remove obstacles hindering production levels and exports.
Concluding the conference, Prime Minister Nguyen Tan Dung asked the Ministry of Planning and Investment to present to the Government a list of SMEs that would benefit from the package in order to implement it before the end of January.
He decided to provide the poor, those who are most affected by the high rate of inflation, with aid amounting to VND200,000 per person, though not exceeding VND1 million per household, to enable them to participate in the upcoming Tet celebrations.