The Government convened its regular meeting on June 30 to assess the country's socio-economic, security-defence and external relations situation in June and the first half of 2014 and define major tasks for the rest of the year.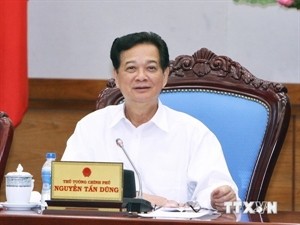 Prime Minister Nguyen Tan Dung urges for measures at the highest resolve to successfully fulfil all yearly targets set earlier. Photo: VNA
Chairing the video meeting, which was also participated by leaders of localities nationwide, Prime Minister Nguyen Tan Dung said the meeting takes place at a time when China has illegally placed its drilling rig inside Vietnam's waters since May 2 in defiance of the law, morality and the Vietnam-China relations.
China's move not only seriously violates Vietnam's sovereignty, sovereign right and jurisdiction and affects the relationship between the two countries, but also gravely threatens peace, stability and security in the region, he said.
PM Dung underscored that under the circumstances, it is crucial to exert every effort to safeguard national sovereignty by peaceful measure in conformity with international law, and at the same time maintain an environment of peace, stability, security and order to serve the country's socio-economic development.
"We must use all measures at the highest resolve to successfully fulfil all yearly targets set earlier," he said.
At the meeting, Minister of Planning and Investment Bui Quang Vinh reported that positive progress was seen in the first half of this year, with controlled inflation, low consumer price index (CPI) rise, stable market prices and balanced supply-demand.
June's CPI recorded the lowest rise from December last year for the same period over the past 13 years, he noted.
Interest rate has dropped, helping ease difficulties for business and production activities, while the foreign exchange market was basically stable, he said, adding that exports maintained high growth and the country continued to enjoy trade surplus.
The minister affirmed that the GDP growth in the first six months of this year reach 5.18 percent, much higher than that of two years ago.
The meeting will continue through July 1, during which the government is to discuss a number of reports, including those on the restructuring progress of State-owned enterprises and the East Sea situation and measures of response.