Prime Minister Nguyen Tan Dung called on the State Bank of Viet Nam (SBV) to take simultaneous steps to control inflation and achieve high economic growth.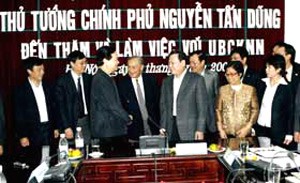 Prime Minister Nguyen Tan Dung at a working session with the State Securities Commission
At a working session with SBV key officials on March 15, the Government leader asked the bank to handle the monetary policies in a flexible manner and closely follow monetary market developments and creditors' operations so as to respond in time to emerging problems.
SBV should tighten inspection and regularly monitor commercial banks' operations and the monetary market developments, emphasized PM Dung.
"Administrative measures should be avoided and it's necessary to play a fair game in the entire banking system," said the Government leader.
He also instructed the banking system to purchase foreign currencies for exporters and work with the Ministry of Industry and Trade to extend stronger support for production and trade so as to balance the supply- demand relations, especially those for production and citizens' life such as petroleum and fertilizers.
"It's not time now to raise an issue on a rise in prices of electricity and coal," emphasized PM Dung.
Also on March 15, PM Dung had a working session with the State Securities Commission (SSC). He said stock exchange is fledgling but very important for the national economy, thus pushing the Government to closely follow its developments so as to take timely solutions to any arising problems.
He also expressed strong belief on the market's stable and sustainable growth.