State-owned enterprises (SOEs) which record prolonged losses and lose equity capital may be put up for sale or declared bankruptcy according to law.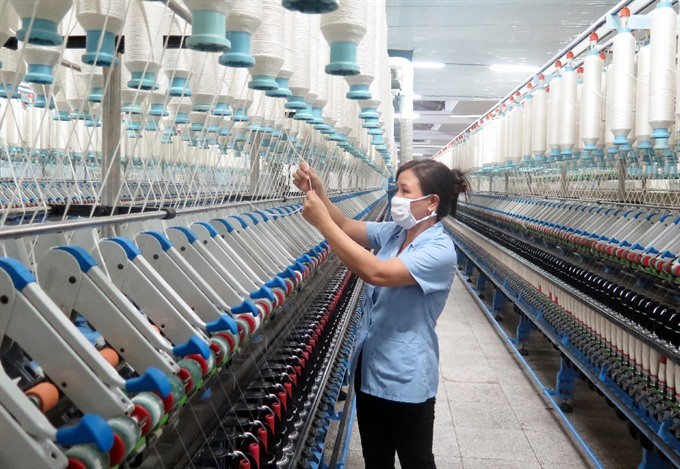 A worker operates a production line at the Nam Định Textile Garment Joint Stock Corporation. (Photo: VNA/VNS)
This is one of several solutions proposed by Prime Minister Nguyễn Xuân Phúc to speed up the progress of State-owned enterprise restructuring.
In the second meeting of the newly-elected National Assembly on Thursday, the PM reviewed the implementation of SOEs restructuring in the past 10 years, and drew up a master plan on State-owned economic group and corporation restructuring for the 2016-20 period.
In the report, he said the current progress of restructuring and equitising SOEs and selling stakes in non-core business sectors had fallen behind schedule.
The number of equitised enterprises was large but the ratio of capital sold was low, Phúc said and claimed some inefficient enterprises lacked transparency in their business operations.
Besides, many large invested projects of State-owned economic groups and corporations suffered from delays, money loss and waste. Errors were slowly detected and not properly handled.
In the first nine months of this year, 48 SOEs were equitised, 10 businesses were dissolved and one declared bankruptcy, the report showed. The State also completed the sale of one enterprise and three public service delivery agencies.
The State sold shares worth VND2.8 trillion (US$125.6 million) in book value for VND5 trillion in the period.
The Government also approved the policy of selling stakes in big SOEs such as Saigon Beer - Alcohol - Beverage Corporation, Hanoi Beer Alcohol and Beverage Joint Stock Corporation as well as other 10 enterprises including the biggest local dairy producer Vinamilk.
To execute the master plan on SOE restructuring in the next five years, Phúc said the Government would focus on equitisation, divestment from SOEs and force equitised companies list on the local stock market to strengthen their transparency and avoid loss of State capital and property.
The State Audit of Vietnam will be assigned to conduct audits at the enterprises having charter capital above VNĐ5 trillion before equitisation.
The Government also advocates considering land-use rights for business value and guaranteeing public and transparent auctions and listing on the stock exchanges to improve governance and operation of businesses after equitisation.
SOEs which suffer prolonged losses that cannot be improved may be sold or put up for bankruptcy according to law.
The Government will step up re-organisation and improvement of operational efficiency of agribusinesses and promote socialisation of public service units during the 2016-20 period.