The Government will implement several measures in tandem to ensure that both socio-economic investments and debt repayments are made in such a way that public debt is kept within allowable limits.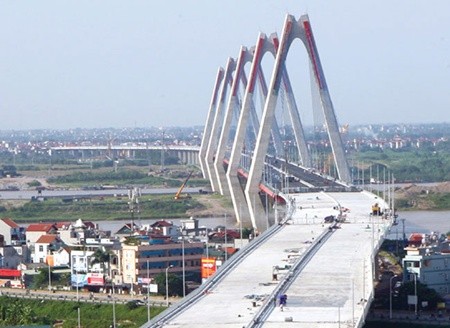 Two thirds of the US$647 million Nhat Tan Bridge in Ha Noi was borrowed from Japan. — VNA/VNS Photo Huy Hung
A press communique issued following October's monthly cabinet meeting in the capital city on Thursday said that ministers discussed ways to ensure optimum use of capital so that public investments do not unduly inhibit the allocation of funds to service national debt.
The National Assembly Resolution No 10/2013/QH13, issued in 2013, mandates that by 2015, public debt must not surpass 65 per cent of the GDP, and both Government debt and ODA have to be kept within 50 per cent of the GDP.
Accordingly, the national 10-year (2011-2020, with vision until 2030) plan on public debt and foreign debt also targets public debt contained under 65 per cent of the GDP, Government debt under 55 per cent and foreign debt under 50 per cent.
By late 2013, Viet Nam's public debt was 54.2 per cent of the GDP, of which Government debt was 42.3 per cent, Government guaranteed debt was 11.1 per cent, local Government debt was 0.8 per cent and foreign debt was 37.3 percent.
It is expected that by late 2014, public debt will be about 60.3 per cent of the GDP and foreign debt will be about 39.9 per cent of the GDP.
These figures are all within the limits set by the National Assembly Resolution.
The communique also pointed out that the world financial crises and economic downturn have slowed down the nation's economic growth rate. They caused budget collection to shrink, but the Government decided to reduce taxes and duties further in order to help enterprises overcome difficulties.
As a result, enterprises' tax contributions dropped to 21 per cent of the GDP in 2011-2015, compared to 24.8 per cent during the preceding five-year period in 2006-2010.
The communique noted that while the budget was shrinking, spending imperatives had increased, given the need for economic development stimulus, wage reforms and social welfare payments.
Recurrent expenditure had increased from 62.2 per cent to 68.2 per cent of the GDP during the 2011-2014 period, it said.
For 2011-2015, the Government will have to issue Government bonds worth VND335 trillion ($16 billion) – a 2.5-fold increase over the previous five-year (2006-2010) period, the communique said.
It said Government bond proceeds and ODA funds have been used to invest in infrastructure development, irrigation, energy, healthcare and other sectors in accordance with Party and National Assembly resolutions.
These two factors have caused national debt to increase rapidly from 51.7 per cent of the GDP in 2010 to 60.3 per cent by the end of 2014 and 64 per cent by late 2015, it added.
"As a middle income nation, our access to long term ODA with low preferential rates has been reduced. So we have to increase domestic loans, mainly through the sales of Government bonds. This is the key reason for the increase in Government debt."
The communique added, however, that "we are still able to make debt repayments while borrowing new loans with longer terms and lower interest rates."
Public debt has been a very important capital resource for socio-economic infrastructure development. More than 98 per cent of it has been used for infrastructure projects, while the remaining (about 1.5 per cent) is sent to the national budget for healthcare, education and the new rural programmes.
The communique said that in the coming five-year (2016-2020) period, the Government will try to cut down public debt to 60.2 per cent of the GDP by 2020, with Government debt at about 46.6 per cent and ODA at 46 per cent.
It also said that direct debt payment by the Government would account for about 20 per cent of the total budget collection, which is five per cent less than the permitted limit.
Public debt
National Assembly deputies said yesterday that public debt was an urgent matter that required drastic measures to resolve.
NA deputy Bui Duc Thu from the northern mountainous province of Lai Chau said public debt was high and payment obligations had caused difficulties in recent years.
He said that in 2013, VND40 trillion was rolled over, and in 2014 the number increased to VND77 trillion.
NA deputy Do Manh Hung from the northern province of Thai Nguyen questioned the accuracy of public debt estimates.
He cited a report by the NA Standing Committee on Finance and Budget that stated some debts were not included in the calculation such as unpaid reimbursement funds, social insurance and unpaid subsidy for social policy banks.
He said public debt must be evaluated accurately so the NA could tackle it effectively.
He said the Government should assign the Ministry of Finance and relevant departments to review and accurately calculate the debts of state-owned enterprises to determine the impact of this sector on economic development and financial security.
He also said the Government should reconsider big projects such as the Long Thanh International Airport, because they would add to public debt.
NA deputy Tran Hoang Ngan from HCM City said it would be very hard to cut spending so the solution was enhancing budget collection. Currently, the State budget primarily comes from domestic revenue, crude oil and import-export activities