The Vietnamese Government plans to continue its market orientation in an aim to facilitate local and international investment and business activities, Deputy Prime Minister Vu Van Ninh said at a Business Forum organised by Forbes magazine on Monday in HCM City.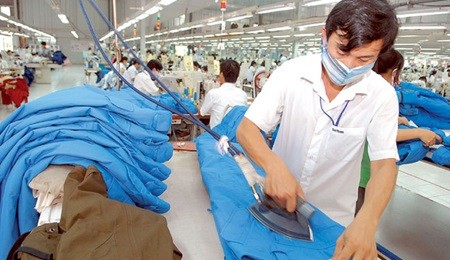 Staff members work at Tien Thuan Garment Factory in Ninh Thuan Province. The factory plans to manufacture 1.4 million pieces of clothing for exports to the US, Europe, and Asia this year. (Photo: VNA/VNS)
Under the theme "Taking The Lead", the forum discussed the competitiveness of enterprises, opportunities to take the lead in the most dynamic economic sectors, and the sharing of ideas and vision of how to get to the top.
Ninh said the Vietnamese economy was growing steadily, showing signs of macro-economic improvement, control of inflation, and administrative reform, especially in taxation, customs and investment licences.
"There are opportunities and important conditions for investors to feel secure about doing business in Viet Nam," he said, adding that economic growth in the first six months of the year reached 6.28 per cent, the highest rate in the past five years.The private sector is a key factor in creating a sustainable Vietnamese economy, as it contributes 30 per cent of the State budget and 40 per cent of GDP.
"The Vietnamese Government has also pledged to bring benefits to local businesses through joining international trade agreements," he said. The prospect of joining the Trans Pacific Partnership (TPP) and other international trade pacts are presenting a unique opportunity for businesses to grow", he added.
For foreign investors, Ninh said "the Vietnamese Government considers your success our success and your difficulties our difficulties."
Somhatai Panichewa, chairwoman and general director of Amata Viet Nam, said that the Vietnamese Government had made great efforts to develop policies to create the best conditions for foreign investors. However, she said the policies had changed so frequently that investors could not catch up with them.
Business representatives said that the Government needed more time to change laws and issue more specific investment policies.
After laws are revised and clarified, businesses can then map out specific development strategies to take full advantage of international trade agreements that Viet Nam has signed, according to the representatives.
Mai Huu Tin, chairman and CEO of Uni Group, said that 96 per cent of Vietnamese businesses were small- and medium-sized enterprises. "They are weak in financial capacity, making it difficult to attract high quality human resources and enter the global value chain," he said.
Chairman of VCCI Vu Tien Loc said Viet Nam also needed to develop a strong support industry, but it lacked enough large enterprises to do so.