Despite positive signals from the monetary market, the government still has to make stricter supervisory on public spending to tame the accelerating inflation and restore the stability of the macroeconomics, economists noticed at a conference on monetary policy and financial market development in Ho Chi Minh City last week.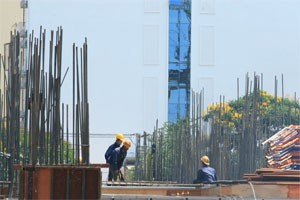 The government made efficient measures on monetary market, but economists asked for stricter supervisory on public spending (Photo:Minh Tri)
Dr. Le Xuan Nghia, vice chairman of the National Financial Supervisory Commission
The foreign exchange rates of the dong and currencies of 19 other nations worldwide that established trade relationship with Vietnam have just increased slightly.
The surplus of Vietnam's balance of international payment is expected to amount to around US$1 billion [the State Bank of Vietnam early predicted the surplus would be $2.5 billion].
The government has officially made plans on setting up a foreign currency market and anti-dollarization measures, which will make debut at the end of 2013.
The government said in plans that commercial banks will be allowed to buy and sell the greenbacks at negotiation prices in accordance with the interbank average exchange rates. Banks will halt both offering loans and receiving deposits in US dollars.
The overseas remittance last year reached $8 billion, of which about $4 billion came from Vietnam laborers from abroad. I expect the amount from overseas laborers this year will reduce slightly to $4.1 billion from $4.3 billion.
Dr. Vo Tri Thanh, deputy head of the Central Institute for Economic Management
People have opted for selling dollars and gold to deposit money in banks since the government released measures on stabilizing the foreign currency market in the last two months.
Many foreign countries highly appraised the government's move. However, local investors are afraid that the government will hardly to maintain the tight monetary policy due to businesses' complaints and a slower inflation rate.
They are also concerned that the one percent reduction in public spending which amounted to around 40 percent of the gross domestic product (GDP) was too small.
I expected if there is no turmoil from the global economies, Vietnam's economy will be stabilized by the government's measures in the first two quarters of the year, with budget deficit declining to below 3.5 percent in the next five years and credit growth amounting to less than 15 percent.
Dr. Nguyen Van Trinh, vice principle of the University of Economics and Law
A large amount of dollars is flowing into banks thanks to the government's efficient measures. It enabled the State Bank of Vietnam to boost the national foreign currency reserve.
The interbank interest rate dropped slightly last week and credit also grew slower, proving that the central bank's cautious monetary policy and supervisory on gold and currency market fruitful.