Ground will be broken for a petrochemical complex in the southern province of Ba Ria – Vung Tau on Sept. 25, the Ministry of Planning and Investment stated on Wednesday.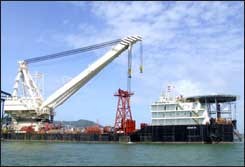 Vung Tau petroleum service port
The complex will be built at the Long Son Petroleum Industrial Park and is expected to be completed by the end of 2012 for an estimated US$4 billion.
The project is financed by a joint venture between Vietnamese and Thai companies. The Vietnamese side includes Petro Vietnam and Vinachem, and the Thai partners include Vina SCG Chemicals Co., Ltd., which is owned by the Siam Cement Group, and Thai Plastics and Chemicals PCL.
When operational, the complex will produced 1.45 million tons of polyethylene and polypropylene, 730,000 tons of chemicals used for production of polyvinyl chloride (PVC), and 840,000 tons of other basic chemicals.
It is expected that production will meet 65 percent of the country's demand for polyethylene and polypropylene by 2017.

The project will employ about 10,000 workers while it is under construction and 1,500 workers during regular operation.
The complex will be the largest independent petrochemical project yet in Viet Nam.