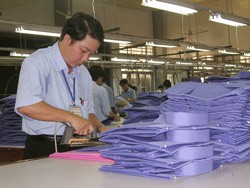 Textile industry, three of ten industrial products have a higher growth rate year on year (Photo: Van Minh Hoa)
In the first two months of 2006, the textile industry product is one of industrial products that have a higher growth rate year on year.
The growth rate of electric motors is on top (increasing by 62.6%) and followed by insecticides (increasing by 40.7%), ready-made clothes (increasing by 39.3%), tool machines (27.8%), hygiene china (25.1%), knit wears (increasing by 24.4%), end-product silks (increasing by 23.2%), coal (increasing by 21.8%), soaps (increasing by 21.3%) and cement (increasing by 15.5%).
According to the Department of Economy and Industry under the Ministry of Planning and Investment, on February, 2006, the growth rates of the national industrial manufacturing in all sectors (state-owned, non-state and foreign investment sectors), despite several days-off on Tet holiday, have registered big increase.
The state sector increased by 23.2%, the private sector by 29.1% and the foreign investment sector by 19.5%.
        
The private sector is leading in growth rate with a 21.7% increase, helping to lift the total growth rates of all industries by 15.8%.