Viet Nam's economic growth is set to increase by nine percent next year, a modest figure that allows for sustainable growth, Deputy Prime Minister Nguyen Sinh Hung told reporters on the sidelines of yesterday's National Assembly meeting.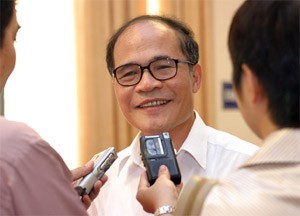 Deputy PM Nguyen Sinh Hung talks to reporters on the sidelines of the NA meeting.
"For long-term growth, we must focus on hunger eradication and poverty reduction, power supply in rural areas, irrigation, education, health, and culture," Mr. Hung stressed.
 
"It's easy to aim for growth and growth alone. What we must do is develop in every way."
 
Mr. Hung said prices were important too. If the economy were to grow too fast, he said, it would put upward pressure on prices. "For that reason as well, a growth rate of nine percent is about right."
 
As the standard of living rises in Viet Nam and more infrastructure is built in rural and urban areas, the growth rate is bound to increase and could reach double digits.
 
"Economic growth depends on the investment and the capacity to develop. Local companies have great potential to grow, and foreign investment is on the rise. Therefore, a growth rate of nine percent is a humble target and easy to attain," Deputy PM  Hung concluded.