Businesses have lamented that Circular 20 issued by the Ministry of Science and Technology on the import of secondhand machinery, equipment and production lines are unreasonable and unnecessary with more complicated, costly and time-consuming procedures.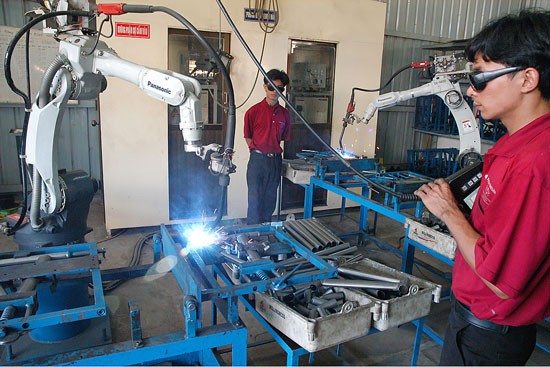 Businesses face difficulties in importing secondhand production chains due to irrational regulations from Circular 20 (Photo: SGGP)
Irrational regulations from the circular have just raised difficulties for them instead of reducing the number of outdated technologies imported into Vietnam, they said.
The Circular 20 which came into effect on September 1 last year requires that the imported secondhand machines must be 10-year-old or younger and their quality must be equivalent to 80 percent of new ones.
Deputy Chairman of Ho Chi Minh City Mechanics Association Do Phuoc Tong said that before being made, a product in mechanic engineering field must go through many phases with the use of various machines. Some machines still operate well after being manufactured for tens of years.
Therefore, capping the secondhand machinery age at 10 years was unsuitable with the mechanic industry, hindering businesses' development, he said. Most of them are of small scale and unaffordable for new machines and technologies.
Chairman of the Vietnam Printing Association Nguyen Van Dong said that applying the circular in many various industries was unreasonable. In the printing industry, ten year old age is too outdated for some items, especially electronic and digital devices.
However that time is too short for some machines and equipment in the mechanic industry. For instance, traditional printers such as offset and flexo can well run for 20 years and longer if they are made in Germany, Japan, the US and Italy.
The ten year duration makes the purchase of used machinery very difficult unless sellers go into liquidation before bankruptcy.
Another unreasonable regulation forced all imported items to be tested to prove that their quality is equal to 80 percent of new machines.
Director General of T.A.T Machinery Corporation Truong Quoc Tuan said that Vietnam has not issued quality standards for machines and equipment. Hence there is no foundation to determine the remaining quality.
In addition, nations have different quality standards for the same products. It is hardly probable that a new machine made in China is as good as an used item made in Japan, he added.
Some joint ventures say that foreign companies are in the trend of moving their plants from countries with high labor costs to the developing countries such as Vietnam. The Circular 20 has unintentionally hindered the country's foreign direct investment (FDI) attraction.
Representative of a FDI firm said that they have removed technologies and production lines from many plants in various countries to Vietnam. It will be very difficult for them to assess the remainder quality percentage.
Most experts and businesses say the above regulations are unnecessary because they are related too many fields and industries.
In case continuing applying the regulations, authorized agencies should divide products into subgroups so as to determine suitable used time and remainder quality, they said.
Deputy Chairman of the Vietnam Construction Material Association Le Anh Ba proposed authorized agencies to pay attention to regulations that secondhand machinery would not pollute the environment, save energy and ensure safety for workers instead of releasing such a complicated circular.