Ho Chi Minh City saw a fall in the Consumer Price Index (CPI) in June, the first time in 22 months by 0.43 percent over the previous month, reported the Statistics Department.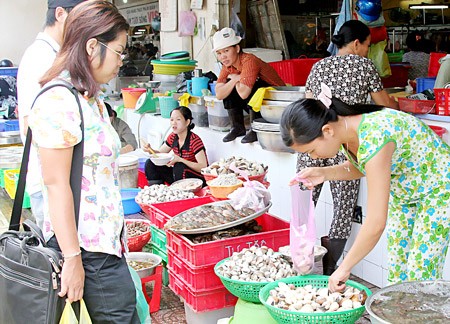 Ho Chi Minh City's CPI falls by 0.43 percent in June, 2012. (Photo: SGGP)
CPI rose 2.05 percent since the beginning of this year, and was up by 6.01 percent compared to the same period last year.
Five out of 11 commodity groups saw a decrease in prices. Culture and entertainment services dropped by 2.26 percent; housing, power, water, and fuel fell by 2.02 percent; goods and other services declined by 0.17 percent; and garments slid by 0.07 percent.
Other commodity groups made a slight rise in prices, of which restaurant and catering services had the strongest gain, increasing by 0.18 percent over the previous month.
Hanoi Statistics Office also reported a drop of 0.17 percent in the city's consumer price index in June, which had increased by 2.56 percent in the first six months of this year.
Hanoi's CPI average monthly growth rate was at 0.42 percent, and the average CPI for the first six months was 11.38 percent higher than the same period last year.
Housing, power, water and construction material sank by 1.86 percent over the previous month; transport costs reduced by 1.73 percent; and restaurant and catering services dipped 0.05 percent.
Textiles, hats and footwear took the lead with a rise of 1.35 percent over the previous month due to summer sales.
Gold price index sank 2.69 percent in June while US dollar price index rose 0.25 percent.