The programme to establish stronger links between commercial banks and enterprises to facilitate access to preferential credit will expand this year to include small traders, a senior HCM City official said on February 27.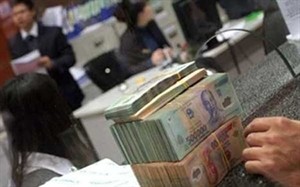 (Photo: VNA)
Nguyen Thi Hong, Deputy Chairwoman of the Municipal People's Committee, said at a review meeting that the city had initiated the linkage programme last year after organising meetings between the two sides in all 24 districts.
Under the programme, banks had pledged to provide loans worth 13.7 trillion VND (648.86 million USD) to 654 enterprises, small household businesses and co-operatives at annual interest rates of nine percent for short-term loans and 9-12 percent per year for medium and long-term loans.
Lat year, the city had also helped connect banks with businesses participating in the city's price stabilisation programme, Hong said.
Unlike in previous years, when companies received interest-free loans from the city, credit institutions last year offered loans at six per cent annual interest, she added.
Van Duc Muoi, general director of Vissan, which participates in the price stabilisation programme, said businesses had felt more secure about accessing capital and the lower interest rate had also helped them reduce production costs and become more competitive.
For 2014, the programme targets loans of 20 trillion VND (947 million USD), Hong said.
This year, the programme will create conditions for more businesses including small traders and households to gain access to preferential loans, Hong said.
She said it will "continue to focus on providing preferential loans to enterprises involved in priority sectors, with particular preference given to those that want to upgrade production technology and equipment or apply hi-tech advances, or to those working in support industries."
Le Hoang Quan, Chairman of the HCM City People's Committee, asked the municipal Department of Industry and Trade, business associations, the HCM City Export Processing Zone Authority and others to collect more information from businesses in their areas to help them solve problems in a timely manner.
Quan said that businesses, for their part, should review their operations and cut unnecessary costs.
Nguyen Van Binh, Governor of the State Bank of Vietnam, hailed the HCM City linkage programme, saying that the Government would consider expanding it nation-wide, initially in Hanoi, Da Nang and Hai Phong.
Binh also encouraged all banks to participate in the programme.
At the meeting, four commercial banks -Sacombank, Agribank, Vietcombank and Vietinbank - signed agreements to provide loans of more than 800 billion VND (37.87 million USD) to 11 businesses, including Nutifood, Ba Huan, ABC Bakery and Pham Ton.