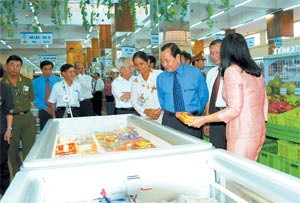 Mr. Le Thanh Hai visits a supermarket in Pleiku, the capital of Gia Lai Province
Ho Chi Minh City and the Central Highland province of Kon Tum signed new agreements for socio-economic development cooperation for the 2006-2010 period on May 8, 2006.
Of the 24 investment projects calling for investment, two worth over VND60 billion were signed on the spot.
The Vietnam Textile-Garment Corporation (Vinatext) announced its plan to build a supermarket in Kon Tum Commune with around VND10 billion of initial capital.
Nha Be Garment Company will invest in an 800-machine factory in the locality.
With 53,9% population being ethnic minorities, Kon Tum Province is located in the Development Triangle of Viet Nam - Laos and Cambodia.
Locating in an area of nearly 10,000 square kilometers, the province has not yet taken advantage of its potential for growth as the strong points of its economy are limited to forest and forestland, said Mr. Ha Ban, Chairman of the Kon Tum Province People's Committee. The province hopes for an emergence of future development when it goes into economic cooperation with Ho Chi Minh City and other provinces.
The same day saw the preliminary closing ceremony of the socio-economic development cooperation between Gia Lai and Ho Chi Minh City for the 2003-2006 period.
The two sides' leaders promised to offer favorable conditions in procedures, policies and capital on the basis of mutual benefit and development.
Of the 21 investment projects capitalized at over VND1,020 billion and developed during the past 3 years, seven came into operation, such as Nha Be Garment Company's Factory with around 100 ethnic laborers, accounting for one fifth of the total work force, three agricultural product processing manufacturers, Vinatex-Pleiku supermarket, etc.
Many other projects are underway in areas of infrastructure accommodations, small and medium sized hydroelectric plants. In addition to economic improvement, Ho Chi Minh City has assisted low-income families with free eyes operations, offering gifts to over 10,000 poor households, increasing training activities on healthcare, science, culture, etc.
Up to VND1,200 billion has been funneled to Gia Lai province following the socio-economic development cooperation between Ho Chi Minh City and the province. In return, two investment programs, valued at VND853 billion, by Gia Lai province's investors are in the pipeline in Ho Chi MInh City.
At the signing ceremony for the second stage of cooperation in the 2006-2010 period, a total of 5 cooperation projects, worth VND 1,280 billion, have been signed, including a surgical spiritfactory, a hydroelectric plant, the extension of Nha Be Garment Factory, etc.
Ho Chi Minh City - Gia Lai cooperation in socio-economic development will not only bring economic benefits but also demonstrate the feelings of the city dwellers towards their ethnic compatriots in the Central Highlands, said Mr. Le Thanh Hai, Chairman of the Ho Chi Minh City People's Committee.
The achievements obtained over the past three years have proved the great determination of Gia Lai Province's leaders to eliminate poverty in the cooperation with leaders and businesses from Ho Chi Minh City, he added.