Some Memorandums of Understanding between Vietnamese businesses and enterprises of Laos and Cambodia were signed during the visit and work by the Ho Chi Minh City delegation of officials in Laos People's Democratic Republic and Cambodia Kingdom on April 6 – 11.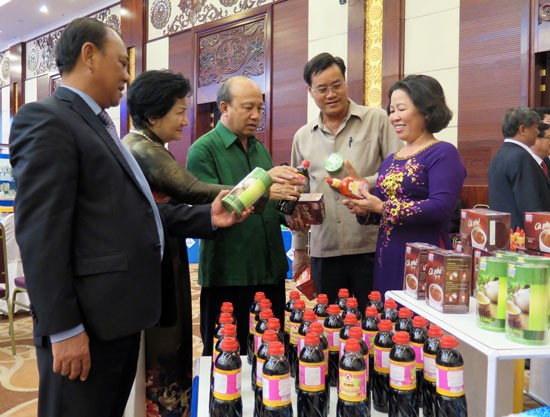 Vietnamese products are introduced to Lao enterprises. (Photo: Sggp)
Exhibitions and workshops promoting Vietnamese products were also organized in Laos and Cambodia during the visit. The events attracted more than 300 Cambodia businesses and 200 Lao enterprises.
Vietnamese high quality consumer products and home appliances were highly appreciated by buyers of the two countries.

65 enterprises of Ho Chi Minh City received investment licenses for projects building fertilizer factory, planting rubber trees and banking with the total capital of US$387.9 million by March. Meanwhile the city welcomed four Cambodian projects worth US$1.6 million.

The statistics showed that Laos' authorities granted investment licenses to 28 Vietnamese companies with the total capital of US$252 million for fields of processing industry; manufacturing; agro-forestry-aquatic products; mining and construction.