Ho Chi Minh City People's Committee Chairman Nguyen Thanh Phong encouraged businesses to call him if they meet with slackness or problems by any authorized agency at a meeting yesterday morning.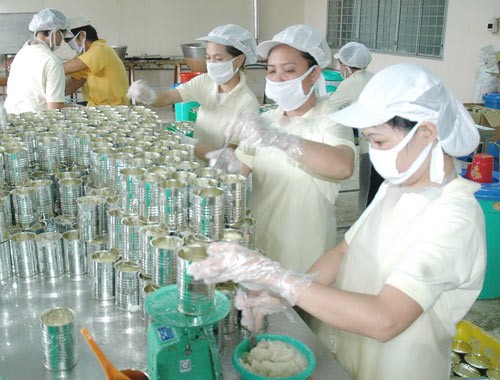 Production of canned custard apple for export at a business in Cu Chi district (Photo: SGGP)

Chairman Nguyen Thanh Phong said that it unacceptable to let the slackness of authorized agencies to affect the city's investment and trade environment. 
On the sprit of immediately going on implementation of socioeconomic missions this year, Mr. Phong asked the agencies and districts to reduce meetings to have more time for businesses and solve their difficulties. 
In case it is necessary to hold meetings, they should invite the right participants, avoid wordy generalities and go right on specific issues to save time. 
Besides, they should focus on measures to boost production and trading, clear obstacles for businesses to develop and improve investment environment. 
He said that a very important task which relevant agencies including Planning and Investment, Finance, Natural Resources and Environment, Planning and Architecture and Construction Departments should be clearly aware of their responsibilities in to more and more improve the city's investment environment, facilitate businesses' activities because their performances will contribute to boost economic development, enhance competitiveness and meet deep and wide integration requirements. 
They should strengthen measures to manage technical infrastructure projects especially those behind schedule and step up administrative reform, he added. 
To do this, he urged to uphold responsibilities of leaders of agencies and districts, further propaganda and openness to the press to supply timely, sufficient and accurate information to obtain citizens' consensus in carrying out the Party and State policies. 
During the Tet holidays, there was no goods scarcity or price rocket, reported deputy chairman of the city People's Committee Le Thanh Liem. 
Total goods value prepared by businesses for two months before and after the Tet was VND16,208 billion (US$725 million), up VND462 billion from the previous holiday. 
The city also spent over VND512 billion (US$22.9 million), a year on year increase of VND15 billion, to take care of workers unaffordable for returning their hometowns for Tet celebration, disadvantaged families, those under special treatment policies, children of them and of soldiers in the Spratly Islands and Platform DK1, economics-science-service complex at sea.