Many real estate investors have broken their promises and failed to conduct commitments, largely affecting customers' rights and resulting in conflicts in Ho Chi Minh City, so the city's leaders have recently cracked down on some violators to remedy the situation.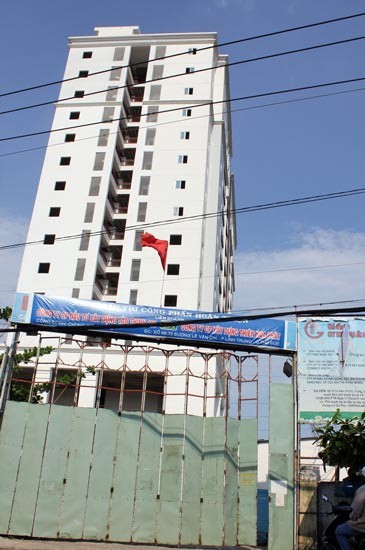 The investor of Gia Phu project sells an apartment to many customers in Thu Duc district, HCMC (Photo: SGGP)
Deputy chairman of HCMC People's Committee Le Van Khoa has just instructed authorized agencies to halt licensing new projects of Transport Engineering Construction and Business Investment Stock Company 584 until it resolves problems of old projects.
The Department of Construction has been tasked to work with the city's inspectorate and relevant districts to invite consultant firms to verify works violating construction regulations. From that, they should propose handling measures in accordance with the law.
In case, verification results fail to meet requirements, these works should be dismantled to ensure safety and the verification's costs will be paid by investors.
In addition, authorized agencies have reviewed the legality of projects by Company 584 in HCMC.
The city has assigned the Department of Justice in coordination with the State Bank of Vietnam to study current legal documents, consult for the city People's Committee to prevent investors from using sold apartments for mortgages at banks.
Districts will intensify inspection and supervision over construction works in their localities to put off investors from breaking the law and raising difficulties for handling later on.

Sai Gon Giai Phong Newspaper has published many articles on the mess of housing projects invested by 584 Company .
Specifically, hundreds of apartment buyers of Tan Kien project in Binh Chanh district have paid over 90 percent of the property value since 2008 but the company has yet to hand over apartments to their clients.
Hundreds of customers of 584 Lilama SHB at 348 Trinh Dinh Trong, Tan Phu district have sent petitions and called for help as they have signed purchase contracts for many years but yet to receive apartments on schedule.
After being transferred by investor Lilama SHB to Company 584 in 2013, the project has been half-done and immoveable so far.
Authorized agencies have also forced to remove 584 Luy Ban Bich apartment block project over 3,000 square meters for violating construction regulations in Tan Phu district.
Mr. Le Hoang Chau, chairman of the HCMC Real Estate Association said that the city's move to quell improper property developers is necessary to prevent them from influencing proper businesses and the real estate market.
Director of the Department of Natural Resources and Environment Nguyen Toan Thang said that the department had looked into hundreds of slowly implemented projects with the total area of 6,000 hectares and consulted for the city People's Committee to revoke investment lisence.
However, many investors similar to 584 Company have not been tackled but assigned to implement new projects.
At the second session of the 9th HCMC People's Council, deputy Truong Lam Danh expressed concern about a proposal by the city People's Committee to assign Binh Chanh Construction Investment Company to carry out two new projects of over 400 hectares while it is also investor of lot of disreputable projects before.
The two new projects are 330 hectare Tan Tao residential area in Binh Tan district and 110 hectare Le Minh Xuan industrial park expansion in Binh Chanh.
In response, leaders of the Natural Resource and Environment said they had carefully considered the ability of the investor before submitting the proposal to the People's Council. If it was approved, they would continue keeping eye on implementation of the projects.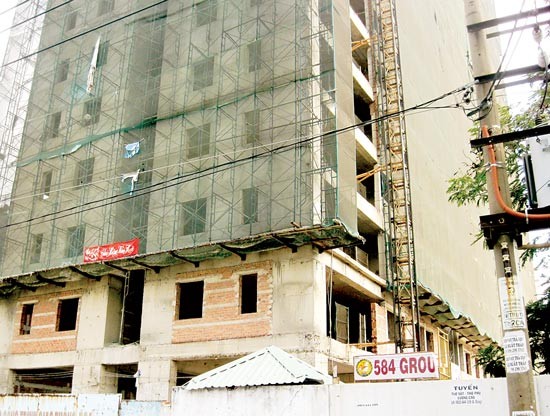 584 Lilama SHB project is mortgaged at banks in HCMC (Photo: SGGP)
HCMC has recently announced 77 tenement projects mortgaged by investors at banks to get loans for the first time. The move aims to publicize the ability of each project and investor for customers to weighing their purchases.
Director of a real estate firm said that the public and many businesses have concurred with the move and proposed authorized agencies to take stronger actions to purify the property market and protect house buyers' rights.
Deputy chairman of Novaland group Bui Cao Nhat Quan said that mortgage is normal for a project with investment capital reaching thousands of billions of dong. The important is how investors implement their projects and conduct commitments to customers afterwards.
Agreeing with the public announcement of mortgaged projects, Mr.Quan proposed not to equal all of them but divide them in different groups of purposes of loans so that customers can have a more objective view to each project and business.