Mr. Nguyen Phuoc Trung, director of the Ho Chi Minh City Department of Agriculture and Rural Development, said that authorized agencies would crack down on use of banned substances in breeding, at a press conference on November 24.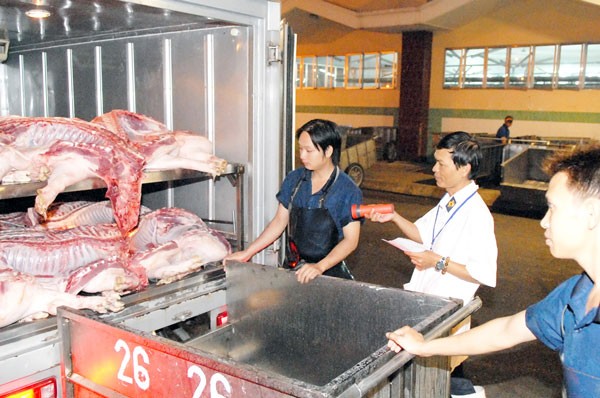 Veterinary workers inspect pork at a slaughter house before the product is transported to markets in HCMC (Photo: SGGP)
The meeting was hosted by the Departments of Industry and Trade and Health on food safety management.
The Agriculture and Rural Development Department (ARD) said it would work with local police forces to inspect and supervise breeding farms, slaughter houses and trading establishments, hunt for rings supplying banned substances and mention their names on the media to root out violations.
On the other hand, food safety fairs will be launched to update residents on certificated products.
Deputy Chairman of the HCMC People's Committee Le Thanh Liem said that the city has set up plans to completely solve transportation and trade of banned substances.
At first, the city will launch inspections in five districts and 12 communes and encourage local authorities to do so themselves.
Answering reporters' questions why the city has not strictly handled use of banned substances by destroying all products tested positive for them, head of the Animal Health Department Phan Xuan Thao said that Circular 57 by the Ministry of ARD provides two solutions.
One is destroying cattle with such substances' residue and another is keeping them within 15 days for the residue to reduce to permissible level. Most breeders have chosen the second way.
Despite banning use of beta agonists, the circular still regulates permissible level in testing. The Animal Health Department explained it aims to prevent errors in analysis results. However, many violators have understood that they can use the substance within acceptable level.
Mr. Thao said that the number of samples tested positive for beta-agonist in HCMC significantly reduced, swinging 18-22 percent of the total samples taken in the fist nine months this year.
As of November 15, his department has taken 119 samples from 31 pork consignments in eight provinces Dong Nai, Binh Phuoc, Ben Tre, Ba Ria-Vung Tau, Vinh Long, Long An, Tien Giang and Binh Thuan and Cu Chi district in HCMC to test and found no violations.