Because of significant contributions by private sector to the economy, HCMC has set the target of developing 500,000 businesses by 2020 and implemented the plan by creating the best conditions for business households to transfer into businesses not forcing them to obtain the target.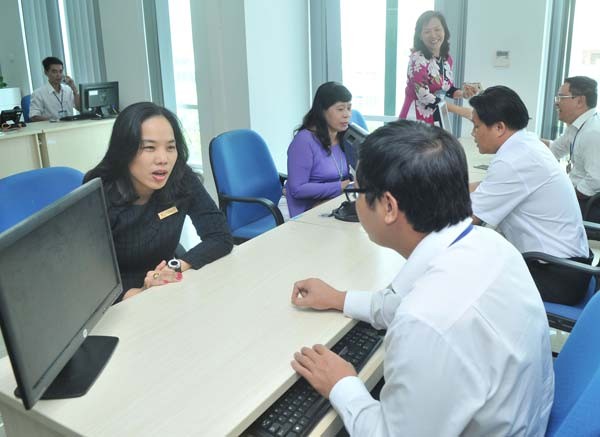 Startup consultancy division at the HCMC Taxation Agency (Photo: SGGP)
At a conference yesterday, standing deputy chairman of the HCMC People's Committee Le Thanh Liem said that the transfer mobilization needs a suitable roadmap and cautious ways of doing.
Private sector contributes to 65 percent of gross regional domestic product (GRDP) and 64 percent of social investment capital.

The city has set the target basing on practical statistics from many consecutive years instead of running after quantity, determining two main sources including business households' transfer and newly established firms to implement the plan.

HCMC plans to establish 60,0000 businesses this year. It has assigned norms for districts however they have reported limited number of business households agreeing to upgrade into enterprises.

Therefore, Mr. Liem said that the city People's Committee would work with leaders of 24 districts, listen to their opinions and discuss way to implement the plan efficiently in the upcoming time.

Deputy chairman of District 1's People's Committee Luu Trung Hoa said that the district now has 26,000 business households and targets of mobilizing over 2,000 households to change into firms this year. For the last six months, only eight have upgraded into companies.
Surveys by District 1's economic department show that the district has 1,000 households with the income of VND2 billion (US$88,000) a year. Most of them have traded food and beverage, computers, wine and beer, cell phones and electronic devices at their houses or in Ben Thanh and Dan Sinh markets.

Ms. Pham Thi Ngoc Dieu, deputy chairwoman of Binh Tan District's People's Committee, said that the city has tasked the district to develop 4,000 businesses in 2017.

In the first quarter, Binh Tan has developed over 700 new companies. Meanwhile, the number of households changing into businesses has reached only 25 although local authorities have created the best conditions for them to transfer.
For instance, the committee has assigned staff to contact the Department of Planning and Investment to help households do procedures and get licenses.

Binh Tan proposed authorized agencies' coordination to have a common instruction for the households' transfer. The city should build a coordination mechanism to grant licenses instead of asking businesses to contact each agency.

According to Ms. Dieu, the role of the Department of Natural Resources and Environment and the Department of Construction has been unclear in the plan of implementing business assistance programs. At present, many wants to expand their premises and need to work with these two agencies.

Tan Phu district has reviewed and listed about 200 households with the income of VND600 million a year. Despites local authorities' efforts in mobilization, only 11 households have upgraded into businesses so far.

Deputy head of the HCMC Taxation Department Le Duy Minh said that many households providing restaurant services pay VND300-350 million in tax a month.
Some coffee shops pay tens to hundreds of millions of dong a month. However they have been afraid of upgrading into businesses concerning about difficulties in taxes.

Mr. Minh affirmed that the agency will give those trading in the field with specific assistances to operate more efficiently and do tax procedures more advantageously if they change into firms.

Data from the conference shows that the city has about 281,309 individual business households from many different fields. At least 100,000 households are expected to transfer into businesses for the city to obtain the target of 500,000 firms by 2020. So the city needs to develop 20,000 enterprises a year on average.

By February 2017, only 106 households have converted into businesses citywide.

Deputy director of the Department of Planning and Investment Tran Thi Binh Minh said that the city must step up propaganda for households to be aware of benefits from the transfer.

The municipal authorities have issued many assistance policies, for instance, households will be exempted from paying fees to register enterprise establishment and get conditional business licenses for the first time.

The Department of Planning and Investment will grant business registration certificates within a working day after receiving sufficient documents from applicants, she affirmed.