Despite the prolonged dull property market in Ho Chi Minh City, sales of property in provinces adjacent to the southern hub remain booming, says an official from a property company.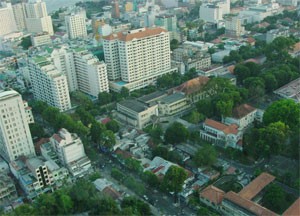 Property market in neighboring provinces remains booming despite the quiet market in HCMC (Photo: Minh Tri)
Property market in the southern provinces of Long An and Binh Duong has been significantly bullish, Hoang Anh Tuan, general director of Tac Dat Tac Vang, said in an interview with Dau Tu Tai Chinh Newspaper.
"HCMC is one of the country's biggest markets. Therefore, as the market was getting bearish, many people thought markets nationwide was in a similar condition," Tuan said.
"Actually property sales in some neighboring provinces remain very positive. We sold thousands of lands and apartments in Binh Duong Province last year."
Tuan said the HCMC market was still potential, but property price in the city was too high for both investors and people who look for living accommodations.
In Ho Chi Minh City, trading is very slow, and prices have fallen sharply. A flat in a newly-established district in HCMC could cost between VND12-15 million per square meter— marginally more than the construction cost.
Speculation is down throughout the country, but it's up in Hanoi because land has always been scarce in the capital.
Price of property in urban zones with modern infrastructure in provinces adjacent to HCMC, meanwhile, is very attractive, ranging from below VND3 million to VND5 million per square meter, he said. 
Housing demand in neighboring provinces is moving up on the fact that many newly-built industrial zones attracted a large amount of employees nationwide.
"Investors consider neighboring provinces of HCMC as 'emerging property markets', which are expected to make strong growths soon since property price remains very low," Tuan said.
He also predicts that properties in new urban zones in Binh Duong and Long An province will be ideal living accommodations thanks to advanced infrastructure and green areas.
"Properties with complete infrastructure, which buyers can move in immediately after purchasing, are top picks now," Tuan suggested.
Statistics from property enterprise Dat Xanh show the land price in Long An Province's areas that are adjacent to HCMC increased by VND500,000 per square meter year-on-year.
"The property market in Long An Province is very potential. Lands in urban zone projects are affordable for even medium-income earners. The work on infrastructure at many urban zone projects has finished," said Luong Tri Thin, general director of Dat Xanh.
Nguyen Hoang Chau, chairman of the Vietnam Real Estate Association, said lands in Long An Province were creating profit-taking opportunities in both short and long terms for property investors.
Many property buyers have been unable to access housing loans after the government ordered lenders to cut credit to the non-production sector. Meanwhile, developers have halted new development projects due to credit difficulties and been unable to find buyers for their existing housing stock.
 
The State Bank of Vietnam is trying to keep this year's credit growth below 20 percent in an attempt to control inflation. 
In the meantime, commercial banks have been ordered to cut back on lending to the non-production sector, which includes the stock and real estate markets. The aim is to limit credit in this sector to 16 percent by the end of the year.