The Ho Chi Minh City People's Committee kicked off a trade and tourism promotion conference at the Hanoi-Moscow Trade Center in Russia on Tuesday with the attendance of hundreds of Vietnamese and Russian businesses.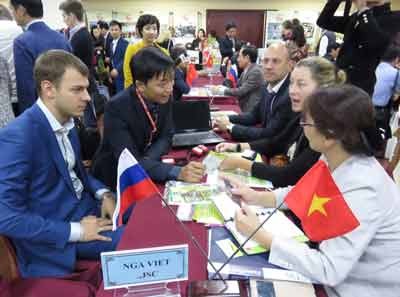 Vietnamese and Russian businesses negotiate export import deals within the framework of the trade and tourism promotion conference that HCMC opened in Russia on September 15 (Photo: SGGP)
The conference started the city's biggest ever promotion campaign comprising a string of events to take advantage of the May signed free trade agreement between Vietnam and the Eurasian Economic Union (EAEU) comprising Russian, Armenia, Belarus, Kazakhstan and Kyrgyzstan.
Russia is the 23rd largest trade partner of Vietnam and the third major export market of Vietnamese firms. However two-way trade has accounted for nearly 1 percent of Vietnam's total trade turnover to the world.
Russia is an attractive market with 143.5 million people and GDP per capita approximating US$14,611 a year. The middle class has more and more developed accounting for 10-25 percent of the country's population.
Import tariffs imposed on Vietnamese agricultural, forestry and fishery products have been cut to be 30-50 percent lower than that when Russia had not been WTO membership.
The Vietnam-EAEU FTA will abolish 90 percent of tax lines equivalent to 90 percent of bilateral trade turnover. Nearly 100 percent seafood products exported to Russia have enjoyed 0 percent tax rate so far.
A Moscow authorities' representative said that many Vietnamese goods are favorite by Russian consumers especially farm produce, wooden items and light industrial products.
Therefore, Vietnamese firms are in front a big opportunity which HCMC People's Committee Deputy Chairwoman Nguyen Thi Hong has urged them to grasp. She also prompted businesses to improve their goods quality to meet Russian consumers' demand.
Managing director of Tam Tam Group Kuznesov-Oleg Borisovich said the company has imported many commodities from Vietnam comprising seafood products for several years, which local consumers have said good and delicious.
According to the Ministry of Industry and Trade, 80 percent of Vietnam's total export turnover to Russia has come from light industry products such as phones and opponents, computers, electronic items, seafood, garment and footwear, and other farm produce like vegetables, coffee, cashew nuts and pepper.
Meantime, 85 percent of products imported from Russia have been petrol, fertilizer, steel, machines, equipment and accessories, seafood, coal, rubber and steel.
Besides advantages from tax cut, VN-EAEU FTA will bring many challenges, for instance the long geographic distance makes transportation costly.
The ministry advised businesses to do careful surveys on transport and storage measures to minimize costs and ensure goods quality. They should also learn about regulations and technical barriers from import countries to avoid risks especially in payment term.
Ms. Olga Biruikova, director of the Russian Center for Asia - Europe Cooperation and Development, recommended firms to vigilantly study consumer custom and habits to export suitable products and be clearly aware of the Foreigner Law of Russia.
The best way to seek and work with local distributors under B2B (business to business) form is to find a steady foothold for their products.
Related article:
HCMC promotes trade, tourism in Russia