Major Ho Chi Minh City retailers are claiming they've met or exceeded their target sales volumes for the year in spite of spike in inflation this year.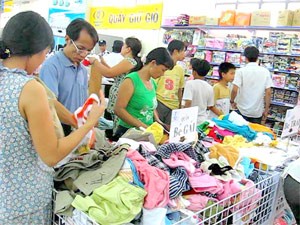 Retail sales go up in Ho Chi Minh City despite year-end inflation
At Binh Tay market, sales are reported to be up 14-20 percent over the same period last year. An Dong, Ba Chieu and Tan Dinh markets also report surging sales.
 
Chinese products targeting year-end holiday shoppers are inundating the local market and taking some 40-50 percent market share in almost every product class they enter, for example, sweets, footwear and pop fashions.
 
It's said that while prices of local sweets from Bibica, Vinabico and Kinh Do went up 3-7 percent, retail prices of imported Chinese sweets have little or even declined from their prices last year.
 
On the other hand, market management authorities have said Chinese goods, especially foodstuffs, often have dubious origins or quality.