Total value of goods that businesses have prepared for two months before and after the upcoming Tet holidays will reach VND16,209 billion (US$721 million), up 2.9 percent over the last Tet, reported Ms. Le Ngoc Dao, deputy director of the Ho Chi Minh City Department of Industry and Trade on Tuesday.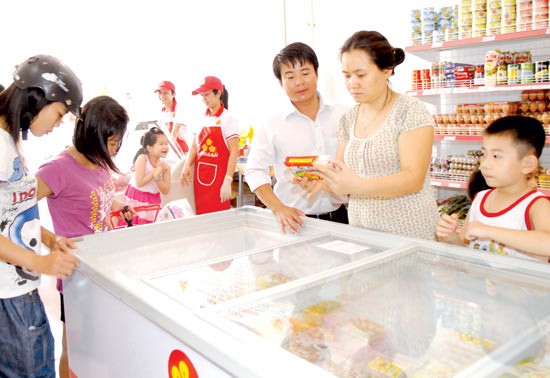 A store under the price subsidization program in District 12, HCMC (Photo: SGGP)
At a meeting chaired by HCMC People's Committee chairman Le Hoang Quan, Ms. Dao said that most businesses have completed their plans to prepare Tet goods with diversified and qualified items comprising food, foodstuff and other necessary commodities.
The prepared volume of goods is expected to increase 15-20 percent over the same period last year and ensure surging consumption demand during Tet holidays, she added. Of these, goods value provided under the price subsidization program will near VND7 trillion (US$312.08 million).
Fresh flower supply is forecast to hike 5-10 percent with 80 percent concentrating in four large markets including Ho Thi Ky, Dam Sen, Binh Dien and Thu Duc.
Consumption of beer and beverage will reach 40 million liters and 45 million liters respectively, up 30-50 percent over normal. The number is predicted to hit 18,000 tons of confectionary items with quality equivalent to import products and output up 20-30 percent.
The department has worked with businesses and distributors on organizing promotional programs to stimulate shopping demand during Tet holidays. In the month ahead of Tet, they are scheduled to launch 15,000 programs worth VND800 billion (US$35.67 million).
Those under the price subsidization program will build plans to deeply reduce prices of in days nearing the holidays.
Despite of economic difficulties which have led many people to tighten spending, businesses have made sufficient preparations to prevent goods scarcity and price rocket.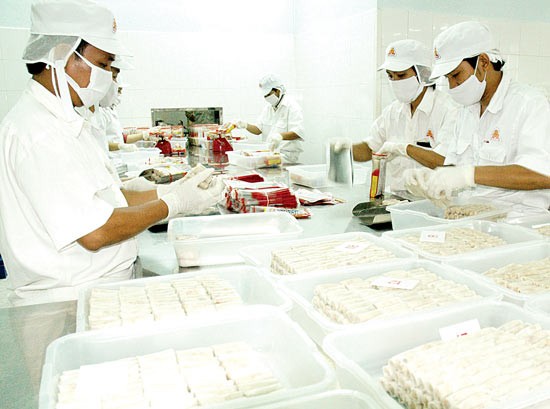 Vissan Company's workers make spring roll, a Tet popular dish in Vietnam (Photo: SGGP)
Approving the department's plan, Mr. Quan instructed relevant agencies to closely monitor the market and assist economic sectors to prepare Tet goods timely and suitably, preventing excessive supply from causing losses to businesses.
He asked the department to work with local authorities in 24 districts on Tet goods supply at 240 retail markets and thousands of stores in the city besides state own enterprises and companies under the price subsidization program. They should focus on fighting counterfeits and low quality goods.
Mr. Nguyen Hoang Minh, deputy director of the State Bank of Vietnam in HCMC said it had worked with commercial banks and businesses since mid September to ensure capital source for increasing production and trading in the upcoming holidays.
Total capital for businesses to prepare Tet commodities approximates VND45 trillion (US$2 billion), he said.