Figures from the Department of Pharmaceutical Management show 90 percent of ingredients local drug makers used are imported from abroad.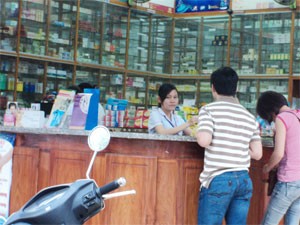 A seller offers medicines to customers at a drug store in Ho Chi Minh City's Binh Thanh District (Photo:Minh Tri)
There are, meanwhile, nearly 4,000 medicinal plants and herbs in Vietnam, which can be used in pharmaceutical production, Dr. Tran Hung, head of the Medicine Faculty of the Ho Chi Minh City Pharmacy and Medicine University, said in an interview with Dau Tu Tai Chinh Newspaper.
Dau Tu Tai Chinh: What do you think about the fact that drug makers can use local herbs and medicinal plants to make drugs?
Tran Hung: More than 2,000 plants out of the 4,000 medicinal plants and herbs can be used in both modern and traditional pharmaceutical production.
Local drug makers still hesitate to use local herbs and medicinal plants due to their drug consumption habits. People, especially those from ethnic groups in highland provinces, tend to pass down their knowledge about herbs and medicinal plants to their relatives only.
Therefore, some rare herbs and medicinal plants are not popular for everybody to get to know.
How to make the most use of the local herbs for domestic pharmaceutical production?
It is necessary to set up policies on planning the planting areas for herbs and medicinal plants, as well as applying modern technologies in pharmaceutical production.
We should reserve rare herbs and medicinal plants and expand the growing areas as much as possible.
The number of herbs and medicinal plants for pharmaceutical production in Vietnam are limited, less than five types.
We should also finance research projects on herb extraction techniques in spite of high expenses. Some herbs and plants are not fully made use for active element extraction.
For example, it is a waste when we extract only one of many useful active elements from the Stephania Cepharantha Hayata to make pain-relief medicines.
One of other useful active elements from the plant is anti-bacteria, which we have to extract from another herb.
Many local drug makers are extracting active elements by putting herbs and medicinal plants into spoiled water and stewing until the water almost runs dry.
With this method, they can achieve both useful elements and even unwanted impure substances.
How is the cooperation between pharmaceutical firms and the university in researching herb extraction for pharmaceutical production?    
We and some drug makers together are working on some research projects. However, we have not achieved much.
Earlier drug makers were not eager to take part in doing researches on extracting active elements from herbs since they bought into the method I mentioned.
But now they gradually realize the importance of the researches as the Ministry of Health requires higher-quality medicines.