The country's economy has faced a growing pressure from high inflation as the consumer price index (CPI) of the first three months of this year is estimated to increase by 6.1 percent.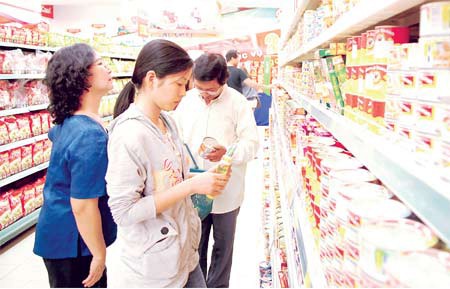 Shoppers at a Lotte Mart supermarket in Ho Chi Minh City (Photo: SGGP)
This figure is near the target of 7 percent set by the National Assembly to curb the inflation rate this year. The CPI in March is estimated to rise by 2.2 percent.
 
According to the Ministry of Finance, so far the prices of many goods have been set according to the market principle, excepting power and fuel which remain subsidized.
 
Though power and fuel prices have risen, they are still lower than the cost price. Therefore economists believe that the target of maintaining the CPI at 7 percent is unrealistic.
 
Le Xuan Nghia, vice chairman of the National Financial Supervisory Commission, said that adjusting foreign exchange rates this year might cause an annual rise of 1.1 percent in CPI, while adjusting petrol prices might make CPI go up by 0.54 percent per year and a rise in power prices will cause a rise of 0.71 percent.
 
In total, the CPI will inch up by a further 2.35 percent. Together with other factors, inflation is forecast to hit 9 percent this year.
 
Dr. Nguyen Duc Thanh, director of the Vietnam Center for Economics and Policy Research, said that a study by the center showed that the inflation in Vietnam is caused by local factors. The study revealed that global prices have had an impact on the country's economy but far less than other factors in the economy.
 
Solutions
 
Nguyen Tien Thoa, head of the Price Management Department under the Ministry of Finance, said that it's very difficult to hit the target of keeping the CPI rate at 7 percent because of many factors.
 
He added that in order to control inflation at a reasonable rate, measures, including reformation of economic structures, restructuring of economy and changing the growth model in terms of efficiency and improvement of competitiveness have to be concretized and implemented.
 
Mr. Thoa said other measures should also be resorted to, to control the economy's aggregate demand, increase stability of the gold market, foreign currency market, foreign exchange rates and interest rates.
 
Finance minister Vu Van Ninh said that besides macroeconomic solutions, the Government will continue to adopt solutions to stabilize prices, including enhancing efficiency of using funds, increasing productivity, lowering the cost price of products, monitoring monopoly, raising competitiveness and improving distribution systems.
 
The Finance Ministry will continue to manage tight financial policies through management of budget spending and collection, he added.