It is only six month rest for ministries, economic groups and corporations to equitize all 289 state owned enterprises (SOEs) under a plan for the phase 2011-2015. However they have completed 21 percent of the plan, there are up to 228 others that must be equalized this year.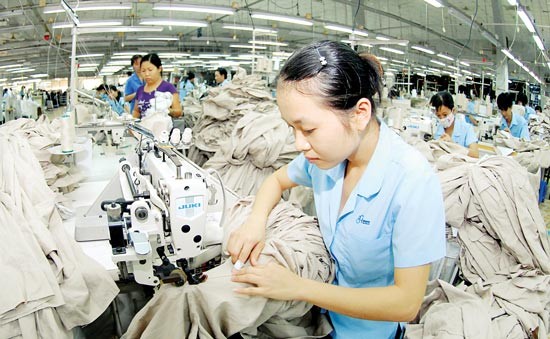 Workers at Garmex Saigon Joint Stock Company 3 (Photo: SGGP)
The Ministry of Transport reported that in the first six month 2015, seven firms have successfully launched initial public offering (IPO), 17 successfully organized their first shareholders' meetings and transferred into joint stock form.
Besides, the Ministry has assessed and submitted the Prime Minister equitization projects of Vietnam National Shipping Lines, Airports Corporation of Vietnam and Central Transport Hospital.
It has also sought the PM's approval to equitize 16 schools, two hospitals and four road motor vehicle registration centers this year.
However, these are just a small bright part of the equitization picture.
After stock market launch, state capital ownership rate still hits 98.06 percent at Vietnam Coal and Mineral Industry Group and 99.61 percent at Vietnam Electricity as they were unable to sell all shares offered for sale.
The State Securities Commission said that 46 companies had launched IPOs offering 557 million shares for sale but only 110 million shares had been purchased as of mid June.
Among reasons for the sluggish equitization progress was because central authorized agencies have solved difficulties too slowly, according to the Enterprise Reform and Development Steering Board.
It required a high level determination of ministries, groups and corporations in order to equitize the rest 228 SOEs in the rest six months 2015, said the board.
Ministers and chairmen of provincial and municipal people's committees, economic groups and corporations must take responsibilities to the Prime Minister and must be handled for slow-moving equitization and capital withdrawal also, it said.
Mr. Dang Quyet Tien, deputy head of the Business Finance Department under the Ministry of Finance, attributed the issue to difficulties in the stock market and lack of drastic actions from some ministries and agencies.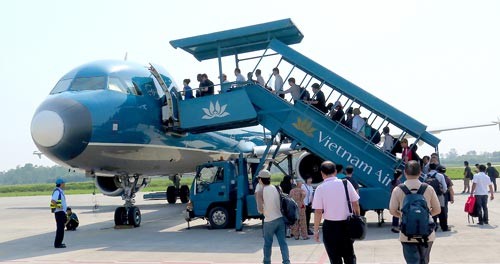 The equitization project of Vietnam Airlines has been submitted to the Prime Minister for approval (Photo: SGGP)
Talking about solutions to speed up the equitization progress, he said that difficulty solving should be responsibilities of specific agencies.
The agencies would put forward measures which businesses have to perform to clear the difficulties or their leaders will be changed, Mr. Tien said.
Minister of Finance Dinh Tien Dung has instructed the department to keep a close eye on SOE equitization progress to timely solve difficulties.
Department head Tran Huu Tien said that it would monthly and quarterly report the progress to the minister, supervise and name businesses, ministries and agencies for taking slow actions to get the target, he said.
Of the 228 businesses that have to equitize by this yearend, Deputy Prime Minister Vu Van Ninh instructed 44 firms with done business value determination to have their equitization projects approved by the end of the third quarter.
127 others must try to complete the value determination in September and have projects passed by the end of the fourth quarter.
The rest 57 yet to take any actions must clearly report their difficulties and clarify responsibilities of related individuals, Mr. Ninh ordered.
Relevant ministries and agencies must monthly report to him on the equitization progress and pay attention to reasons for issues and responsibilities of relevant sides, he said.