The National Assembly's Economic Committee began a three-day session on September 21 to examine the Government's socio-economic report for the year, development plans for 2010, banking and credit bills and plans to develop the power sector.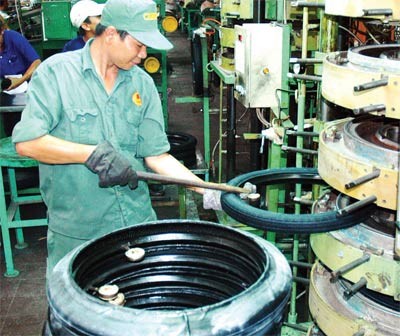 Workers in a tyre production line of Casumina Company. Vietnam's industrial sector posted its lowest growth in many years, dragging down economic growth (Photo: SGGP)
Deputy Minister of Planning and Investment Nguyen Duc Hoa said the global recession has had a negative impact on economic growth, but the Government has adopted many measures, especially the stimulus package, to ward off a recession.
 
The economy has gradually recovered and social welfare has been ensured, he said.
 
This year's economic growth is expected to top 5 percent, exceeding the adjusted target set by the NA.
 
The implementation of social welfare policies has provided results, with many people, especially in remote and rural areas, getting jobs, and the poverty rate expected to subside to 11 percent by the end of this year.
 
Mr. Hoa warned of the problems that remain -- the industrial sector saw its lowest growth in many years and the number of foreign visitors and exports have fallen steeply.
 
Le Quoc Dung, a committee deputy head, said to achieve the year's target of 5 percent, growth must reach 6.7 percent in the last quarter.
 
To achieve this, the Government needs to conjure up breakthroughs.
 
Another deputy head, Vu Viet Ngan, said the Government needs to adopt effective measures to attract foreign direct investment.
 
Nguyen Thi Nguyet Huong wanted the Government to spell out why it issued such a small volume of bonds in 2009. The Government has plans to make substantial bond issues in 2010.
 
Delegates appreciated the Government for adopting measures to speed up administrative reform and create a favorable investment environment.
 
They asked for a report on the use of ODA funds for socioeconomic development projects, construction of low-income housing, and assistance to workers going abroad.