Many real estate investors in the Mekong Delta city of Can Tho are selling off their investments to retreat from a slumping market.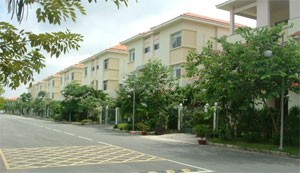 House cost in Can Tho City has dropped by 5-20 percent (Photo: Minh Tri)
Do Minh Phuc from the property exchange Phuc Hung said there was only five transactions on the exchange last month.
Most of them are houses or lands in the new urban zone Hung Phu, which was built by the exchange's parent firm CIC8, according to Phuc.
Another real estate exchange – Mekong Land – said many customers asked it to sell lands in many property projects including CIC8 and Phu An for them at an average price of VND400-700 million (US$34,000) each.
Brokers said the price has plummeted by VND20-50 million so far this year. House cost in new residential zones including 91B and Hong Phat also fell sharply by 5-10 percent.
House cost of the new residential zone Thien Loc in the south of Can Tho City plunged by 20 percent.
Builder Thien Loc, who is the contractor of the zone, announces that house buyers can pay only VND500 million in advance and pay the rest by installments in three years without interest rate.
"The company suffers heavy losses when selling houses at the price of VND828-880 million," says Vo Thanh Van, director of the construction firm.
"But we had to sell at this price in order to cut constant losses."
Property experts say property price in Can Tho City are falling to "the bottom level".
"Price of a square meter should be at nearly VND4 million ($191), which include compensation for relocation, expense for site clearance and infrastructure construction," says a broker.
Nguyen Van Duoc, standing vice chairman of the Can Tho City Real Estate Association, says the city's property price has fell to the lowest level in the last three years. Duoc expects the price will rally soon.
Yet some analysts say the market would struggle to recover as the government still retains a tight and cautious monetary policy for the rest of the year.
Many property developers have posted huge losses in both the first and second quarters, saying most of their capital has been invested in projects already.
Some said success at only one or two major projects helped secure enough profit last year. That is not possible now because the market is expected to remain on edge until the end of this year at least.