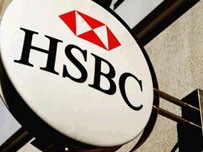 An HSBC logo
The Hong Kong and Shanghai Banking Corporation has struck a deal to acquire 10% of the share capital of Viet Nam's Techcombank for a cash consideration of VND275 billion (US$17.3 million), HSBC announced on December 28, 2005.
Headquartered in Ha Noi, Techcombank the bank currently operates through a network of 47 branches in Viet Nam. It employs nearly 1,000 staff and offers a range of retail and commercial banking services.
HSBC's investment in Techcombank follows stake purchases by UK-based Standard Chartered Bank and Australia's ANZ Bank in Vietnamese banks.
In related news, HSBC Viet Nam is issuing certificates of deposits in U.S. dollar in Ho Chi Minh City and Ha Noi.
The certificates are available with terms between three and 11 months for individuals, and one to 11 months for companies.