Thua Thien Hue province's leaders and the People's Committee of Ho Chi Minh City (HCMC) had a meeting with enterprises to introduce projects and call for investments into the province.
According to Ms. Nguyen Thi Quy Hoa, Deputy Chairwoman of the People's Committee of Thua Thien Hue Province, Hue national Festival 2006 is a big opportunity for enterprises taking part in the investment fair to promote their brand names.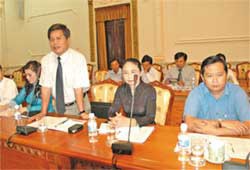 In the meeting

On this occasion, provincial authorities will organize a trade and investment fair where enterprises can introduce their brand names to international visitors. In addition, they will call for investment in Hue's large-scale projects to help with the program of socioeconomic development in the future.
The trade and investment fair will be organized from June 3-6, 2006 in the city's sports center. Many provinces and cities in the country will take part in this fair.
Among them, HCMC, a leading key economic region in southern Viet Nam, will set up a display house to introduce the traditional trade, strong points, achievements in the 31-year renovation and socioeconomic development of the city, Mr. Nguyen Huu Tin, Deputy Chairman of the People's Committee of HCMC said.
In addition, Thua Thien Hue province's leaders will also organize seminars to call for investors to invest in 19 projects with the estimated investment capital of US$400 million. The projects primarily concentrate on tourist areas, ecological tourism, trade centers, golf clubs, entertainment centers and industrial factories.
The trade and investment fair "Thua Thien Hue, Potentials and Investment Opportunities" will set up two rooms to introduce main projects in the Chan May-Lang Co Economic Zone, Phu Bai Industrial Zone and projects of Hue city's urban development. There will be an information map to introduce Hue's potentials and special policies.
Upon investors' request, province's leaders will arrange for investors to tour the areas needing investment for examination.
HCMC investors highly appreciated Thua Thien-Hue's efforts in administrative reforms to support enterprises. They hope that the provincial authorities will have concrete and specific plans to develop infrastructure and trade, and reduce the difficulties for investors.

Related articles:
- Cultural Heritage with Integration and Development
- Quoc Binh's Collection to Be Introduced in Hue Festival
- International Sculpture Symposium "Hue-Viet Nam Impression 2006" Opens
- First International Musical Composition Camp in Viet Nam
- "Viet Nam's Flying Wings" Kite Festival
Link: www.huefestival.com