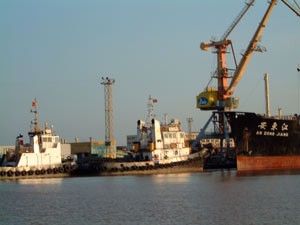 Hai Phong Port is one of the largest ports in Viet Nam
After joining the World Trade Organisation (WTO), Viet Nam will become one of the most vibrant markets in the world, said Chief Executive Nguyen Bao Hoang of IDG Ventures Viet Nam, an investment fund under the International Data Group (IDG).
IDG Ventures has envisioned a promising outlook for risk investment activities in the Vietnamese market and believes that the country's information and technology sector is getting off to a flying start, Mr. Hoang told a reporter from the Quan Doi Nhan Dan (People's Army) daily.
Mr. Hoang noted that IDG Ventures' confidence is particularly fortified at this point in time, when the Government has formulated incentive policies that prioritise the development of high-tech industries, aimed at drawing more foreign investment.
According to the IDGVentures official, the signing of the Viet Nam-US agreement on the conclusion of their WTO negotiations on May 31, which paved the way for Viet Nam's accession to the world largest trade body, signals the country's determination to maintain its path towards global integration.
He added that the agreement offers an opportunity for domestic enterprises to access international markets, including the information and communications technology markets, in which the IDG Ventures is mainly engaged.
Mr. Hoang confirmed that IDG Ventures will expand its operation in Viet Nam. By the end of 2006, the group will implement six more projects in addition to eight it conducted during the first two years of operation in the country.
Source: VNA