The International Monetary Fund (IMF) has trimmed its economic growth forecast for Vietnam to 4.8 percent this year from an earlier 5 percent.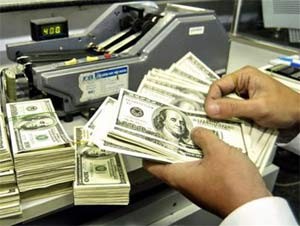 The IMF now predicts Vietnam's GDP to grow at 4.8 percent this year, down from its earlier 5 percent estimate. But it says the Government's policies are on the right track, including one to allow greater foreign exchange rate flexibility.
An IMF report released in Ha Noi March 19 that the inflation rate would be 6-8 percent.
 
The fund's Executive Board appreciated the Government's efforts to stabilize the overheating economy in 2008 and for taming inflation and improving the trade balance, it said.
 
But it noted that Vietnam faces short-term challenges stemming from the global economic and financial situation, which have sharply worsened, and that the risks are closely linked to the recession.
 
Economic growth would slow in 2009, the IMF's directors warned, with capital inflows, exports, and private remittances likely to decline sharply. The current account deficit would remain large, they said.
 
Slower growth can also heighten the banking system's vulnerabilities, they warned.
 
But they agreed that the medium-term prospects are favorable and Vietnam would remain an attractive destination for foreign investors.
 
The IMF encouraged the Government to tweak its 2009 budget to ensure introduction of proper and effective stimulus measures to support aggregate demand.
 
It also advised the Government to review the effects of its recent monetary adjustments before considering further easing.
 
To strengthen the monetary framework, the IMF called for improving open market operations and liquidity management.
 
They noted the recent devaluation of the dong and the widening of the exchange rate trading band, welcoming the Government's policy to allow greater exchange rate flexibility.
 
They welcomed the Government's intention to press ahead with the reform of state-owned enterprises (SOEs), while noting that the equitization process has been postponed partly due to unfavorable market conditions.
 
The reforms are expected to strengthen the performance and governance of SOEs and sustain Vietnam's rapid pace of economic development.
 
Britain's Standard Chartered Bank predicted GDP growth to top 5.5 percent in 2010.