Viet Nam's automobile industry is facing big challenges as the Government has allowed import of used cars. Sai Gon Giai Phong has interviewed Deputy Industry Minister Do Huu Hao about this policy.
Sai Gon Giai Phong: The Government's Decree 12 allows the importation of used cars. How do you think this will affect the local automobile industry?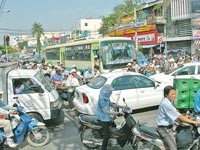 A traffic jam in Ho Chi Minh City. Import of used cars may result in more traffic jams (Photo: SGGP)
Mr. Do Huu Hao: A lot of influence. First, car prices in Viet Nam will change because imported used cars are very cheap. I think we need to pay close attention to four matters. First: Safety. The decree says cars can be imported as long as they are not older than five years from the production date. So, the safety of the cars must be taken into consideration. Second: The cars must meet Viet Nam's environmental standards. Third: Imports will probably result in more traffic jams, especially in urban areas. Fourth: fraud.
Could you be more specific about possible fraud in importing used cars?
There might be different forms. For example, importers can fake car records to meet the requirement of five years. They can cheat in prices, too, because it is hard to know prices of used cars. For example, the real price is US$5,000 but the importer declares it to be US$2,000 to get a lower import tax. Another case is the importer buy new cars but changes some parts to make them used cars, thus enjoying the lower import tax for used cars, and then fixes the parts back to make them new cars.
In your opinion, how will this problem influence the local automobile industry?
Used cars, with lower prices, will beat Viet Nam-made cars. The domestic manufacturers will stop production and shift to trading. This is very dangerous for the local automobile industry.
In charge of the sector, what must the Industry Ministry do?

Actually, nobody has consulted us with this problem. The ministry has objected to this policy. As far as I know, during Viet Nam's talks with partners to join the World Trade Organization, Viet Nam has been asked to open the market to used cars. But I think we need to be cautious, not to open up the whole market immediately.
Will the Vietnamese automobile industry adjust its development strategy?

It's impossible. It's too late now. Automobile assemblers in Viet Nam will die because they mainly assemble cars. The whole industry is facing high risk of bankruptcy. 
But Decree 12 will take effect on May 1!

The Ministry of Trade and other relevant ministries are looking at the problem in detail. Previously, the Ministry of Trade said that Viet Nam should delay this import directive as long as possible. I think that it is advisable to delay, and the best way is to ban import of used cars.
But do you think this import will benefit Vietnamese consumers with lower prices?
It's true. But the Government has not encouraged the public to use cars. The Government is imposing special sale tax on cars, so it cannot be said this import is for the best of consumers. The country's benefits should be protected, including traffic jam reduction, ensuring safety, protecting the environment and preventing trade fraud. A concern for consumers when buying used cars is that it is difficult to ensure quality of the cars because the sellers can change some parts. In addition, as for cars aged more than five years, people have to register every three months, and this is costly. Ysed cars are thought to be cheap, but they will cost more.