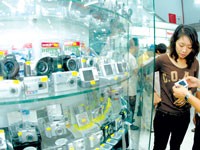 Traders often use fake C/O to import hi-tech electronics
Authorities in Viet Nam have recently discovered forged certificates of origin (C/O) importers use to mislead consumers their imported electronics come from ASEAN countries, also to enjoy low import duties subject to the ASEAN Free Trade Area's regulations.
Why C/O form D needed
The AFTA duties range from 0% to 5%, and importers must show a C/O form D. This C/O is issued for a product with at least 40% of its components having an ASEAN origin. Without this C/O, the tariffs range from 40% to 50%. Therefore, importers use forged C/O form D to avoid high duties, or to avoid time-consuming procedures required for obtaining this C/O.
True story in Ho Chi Minh City
Recently, a woman named H.T.T from District 9 in Ho Chi Minh City came to the Sai Gon Giai Phong newspaper office to tell her story. She bought a Whirlpool gas cooker and an Ariston water heater from Cho Lon Electronics and Machines Supermarket in District 5 in January 2006. The vendor said both items came from Italy, adding that the gas cooker had American components and was assembled in Italy.
At home, the woman found no instruction booklet to install the cooker. When she asked the supermarket to give her the booklet and the C/O of the cooker, they refused, saying that it was a secret.
The package and the cooker gave her no information about the origin and production place of the item. Searching on the Internet, she found that this item was present in Russia only. Therefore, her question was whether the C/O she got was a fake.
Another problem was the seller did not give her the receipt for what she bought until she asked. She wondered if the supermarket wanted to avoid paying tax to the Government.
Sai Gon Giai Phong has since contacted the seller on her behalf, only to receive no reply.
Fake C/O
Sony Viet Nam has recently found Sony TV sets imported into Viet Nam from Thailand with C/O form D. These certificates say all components of the TV sets were made in Thailand. Suspecting a foul play, Sony Viet Nam asked Sony Technology Thailand to verify, and the latter confirmed that not all TV components were made in Thailand.

Sony Viet Nam has brought the case to Thai anti-trade fraud authorities, who then verified that the C/O in question was a fake. Then, the Vietnamese Ministry of Trade made a working trip to Cau Treo Border Gate in the central region, where Sony Viet Nam had found out the fake C/O. The ad-hoc task force concluded that 23 shipments were brought via the border gate with fake C/O form D saying that all components were made in Thailand, and the imports included TVs, fridges, rice cooker, microwaves, etc. All were exported by a Thai firm, Chokchaimukdahan Import-Export, and the importer was Thanh Dam Enterprise in the central province of Ha Tinh. All imports bore Japanese brands like Sony, Panasonic, Hitachi and Sharp. All TVs were valued at US$729,230, including Sony TVs worth US$556,730.
Reality
Market experts say hi-tech electronics are often imported illegally because importers want to avoid customs duties. The proportion of ASEAN components in these items cannot reach to 40% (the minimum rate for a C/O form D). Therefore, the items are imported from Europe, Japan, South Korea, etc to Singapore or Thailand, where a fake C/D form D is made, and then imported into Viet Nam.